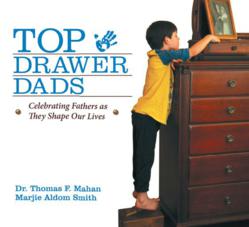 The normal dad just does what needs to be done to raise responsible kids.
Nashville, TN (PRWEB) July 16, 2012
Many remember their dad's top drawer, remembering what each item things represented to them.
Chances are, these items in their dad's top drawer match many of the things that are in their own top drawer. It is in this drawer that children smell, feel and touch their father. Here they discover the same safety and warmth many children have experienced in their visits to their father's top drawer.
Dr. Thomas F. Mahan and Richard Nicorvo founded the company Top Drawer Dads and accompanying website to celebrate fathers and create an online learning and sharing community.
"Society pays little attention to regular fathers – the normal 'Joe' who loves his wife and kids, generally likes what he does for a living and contributes to the larger community," says Mahan. "The normal dad just does what needs to be done to raise responsible kids."
The book version of "Top Drawer Dads" (published by WestBow Press) encourages positive parenting and attempts to counter negative messages about fathers.
In "Top Drawer Dads," readers are encouraged to re-live memories of being a father or of being fathered, become aware of the power of being a father, see examples of other Top Drawer Dads and have shared a safe, yet intimate, message of appreciation and love.
"Most of the literature available to dads focuses on evaluative issues and the things dads do wrong," Mahan says. "They zero in on dads who are either absent, alcoholic, divorced, broken psychologically or in an identity crisis. Rarely is popular literature helpful or reinforcing to regular fathers and their families."
For more information, visit http://www.topdrawerdads.com.
About the authors
Dr. Thomas F. Mahan is CEO of Top Drawer Dads and the Chairman of The Work Institute – a workforce and workplace research company. Prior to founding Top Drawer Dads and The Work Institute, Tom held consultation, counseling, research, and general management roles with Spherion, Cigna, and Prentice-Hall. Earlier in his career, Tom counseled troubled and troubling families with the Edwin Gould Foundation in New York and at Cumberland House School in Nashville, Tennessee. Professor Mahan, as time allows, is adjunct faculty at Peabody College of Vanderbilt University.
Dr. Mahan is well known through his teaching and conference speaking with national and international organizations. Tom is a behavioral consultant, executive counselor and advisor, and the co-author of The Why Factor: Winning With Workforce Intelligence.
Tom is the husband of Dr. Beverly B. Mahan, the father and father-in-law of Lindsay and Joshua Lee, and the father of William.
Marjie Aldom Smith is a professional writer/editor who has worked for more than three decades as a journalist and communications professional in Canada and the United States. She has won more than a dozen regional and national awards for her writing on both sides of the border. Her work has been carried in The Toronto Star and on CBC Radio. Prior to moving to the U.S., 10 years ago, she was responsible for communications at Nipissing University in Ontario, Canada. Her freelance career in the U.S. has included working as an interim communications director in Pittsburgh and producing a multiple-award-winning, not-for-profit newsletter.
Marjie is married to The Rev. Dr. Jerry Smith and the mother and mother-in-law of Adrienne and Dwayne, Nathan and Jasmine, and Aaron and Meredith. She is the grandmother to Luke, Mila, Madilyn and Eli.
# # #
EDITORS: For review copies or interview requests, contact:
Brandon Kline
Phone: 928-699-8956
Email: bkline(at)bohlsengroup(dot)com
(When requesting a review copy, please provide a street address.)