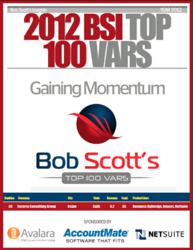 "... we are honored to be recognized for our hard work and dedication to solving some of the toughest problems in the industry."
Irvine, CA (PRWEB) July 10, 2012
Sererra Consulting Group, LLC., a world-leader in business process and technology management offering a broad portfolio of the best cloud-based ERP, CRM and eCommerce solutions to the mid-market, announced that it has been named to Bob Scott's Insights Top 100 VARs for 2012. The Top 100 are chosen from organizations specializing in the sale and implementation of Enterprise Resource Planning and accounting software.
"We want to congratulate this year's class of Bob Scott's Top 100 VARS," said Bob Scott, executive editor of Bob Scott's Insights. The selection is based on annual revenue generated by each reseller. A special report that includes names of the organizations selected for this year's Top 100 list, ranked by revenue, is downloadable at http://www.bobscottsinsights.com
Bob Scott has been informing and entertaining the mid-market financial software community via his email newsletters for 13 years. He has published this information via the Bob Scott's Insights newsletter and website since 2009.
He has covered this market for 21 years through print and electronic publications, first as technology editor of Accounting Today and then as the Editor of Accounting Technology from 1997 through 2009. He has covered the traditional tax and accounting profession during the same time and has continued to address that market as executive editor of the Progressive Accountant since 2009.
"This is exciting news for our company and we are honored to be recognized for our hard work and dedication to solving some of the toughest problems in the industry," said Sererra CEO Vijay Saha.
About Sererra
Sererra is a leading Green IT technology and management consulting firm focusing on delivering turnkey business solutions for midmarket firms worldwide. A provider of SaaS based technology for ERP, CRM and eCommerce needs, Sererra's core areas of expertise emphasize business process engineering, systems implementation, integration and custom software development including cloud-based business processes for a wide range of industries. As a NetSuite, Salesforce.com, SugarCRM, Intacct and SAP Business ByDesign provider and integrator serving the mid-market with hundreds of implementations, Sererra provides clients with a complete unified integrated solution that enables business to grow more profitably.