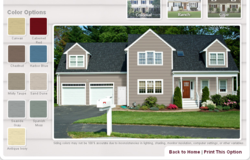 We wanted to give homeowners an option to see a host of colors on homes to aid them in their search for new siding!

-Emilio Bonilla, of SidingMagazine.com
(PRWEB) July 02, 2012
Picking the color of the siding has long been a trial and error thing for most people. Imagining color and how it matches a specific house design is very difficult, especially for those who do not have an artist's eye, which is actually most people. The eyes are relied upon to gauge the total effect. It is for this reason that SidingMagazine.com is offering the Siding Designer Tool on their website.
The tool is easy to find. Upon entering the website, the siding designer tool can be seen in the middle portion of the homepage beside the Siding Price Calculator. Simply click on it, and the Composite Siding Designer Tool will appear. Clicking on the Start Designing tab will bring the user through a straightforward, user-friendly siding design process.
Siding Design Options
There are several house design styles available that the user can choose from. The selections are as follows: Cape, Colonial, Contemporary Colonial, and Ranch. These house styles are the most popular ones throughout the country. It is highly likely that the house the user envisions reflects the design concept of one of these.
There are nine colors to choose from (i.e. Canvas, Cabernet Red, Chestnut, Harbor Blue, Misty Taupe, Sand Dune, Seaside Gray, Spanish Moss, and Antique Ivory). The tool is interactive in that the depicted houses siding changes color to illustrate how a particular style would look in the chosen color. This makes it easy for those planning to purchase or replace their siding to make a more informed color choice.
Printing The Design
An option to print the siding designed is also provided. This will allow the user to keep a colored copy of the house siding he or she designed as reference. It is not guaranteed, though, that the colors will come out exactly as seen on the Siding Design Tool, as this aspect is dependent on the equipment available to the user.
Other Useful Things On The Site
The Siding Price Calculator is another useful tool that can be found in SidingMagazine.Com. It aids the user in estimating how much might be spent on new siding. Those who want to know more about the various sidings on the market may download the Free Comparison Guide.