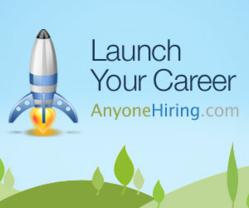 The best things in life are free, now so is posting jobs.
Tampa, FL (PRWEB) July 09, 2012
AnyoneHiring.com announces the launch of its new "Premium Job Postings" subscription-based feature, now available for employers in July. With this monthly subscription upgrade, any employer's budget can be met since they can choose the quantity of premium jobs they need. The premium job postings have priority listing when candidates search for jobs on AnyoneHiring.com, can be branded with company colors and logo, and most importantly the jobs are posted across multiple high-traffic job board websites. This premium subscription increases potential job candidates and means exposure to millions of active job seekers on leading job boards such as Juju.com, Jobs2Careers.com, Careerjet.com and many other websites.
As always, AnyoneHiring continues to offer posting jobs and searching resumes absolutely free. AnyoneHiring is the first professional job board that is absolutely free for employers to post jobs and search resumes. The list of free features rivals many of the paid features offered by other leading job board websites. AnyoneHiring's focus has been to provide employers, recruiters and job seekers with a free marketplace to post and search for jobs. By providing free access for employers and job seekers to search and communicate, AnyoneHiring provides more opportunity and visibility for job candidates.
"I've always believed the best things in life are free and I feel that's the direction the Internet is going. Companies like Google, Craigslist, and Wikipedia have spearheaded this by creating free online tools for consumers and businesses. Naturally, a free job board should be one of those tools, and especially in our economy." Says Jason Jernigan, founder of AnyoneHiring. "I don't feel companies should have to pay hundreds or even thousands of dollars to post a job or find the right candidate."
With desirable features for candidates such as: the ability to search and save jobs nationally, track application history, post multiple resumes, private messaging to employers, and a professional resume builder step-by-step wizard that makes building a resume so easy "it practically builds itself", it's no surprise AnyoneHiring has gained the popularity it has among today's job seekers.
For employers, the website offers all the professional tools their company needs to search job candidates and post jobs in a simple and user-friendly format. Some free features include: unlimited job posting, national candidate resume search, historical archiving, and private messaging with candidates.
According to the Pew Research Center, as many as 93% of teens and young adults, and 74% of adults go online. It only makes sense that free services such as customized job searching and posting have become increasingly available for everyone. So, if you are one of the thousands of companies now hiring, look to the free services of AnyoneHiring.com as a valuable resource, or upgrade to the premium features to improve your results at a fraction of the cost of other professional job boards.