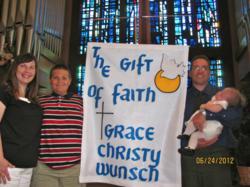 Wake up this drug addicted world.
Regina, Saskatchewan (PRWEB) July 02, 2012
Morley Evans, publisher of SUE! Statins!, interviewed Statin Drugs victim Christopher Wunsch in Wisconsin from his base in Saskatchewan.
Evans asked Wunsch what his experience has been with Statin Drugs. Wunsch replied, "I want to applaud you for what you are doing to wake up this drug addicted world!
"It will be ten years this Oct 10th since my Lipitor brain injury that involved Apoptosis, and Mitochondrial DNA damage — similar to MELAS. I was a Critical Care Registered Nurse prior to the end of life as I knew it. To find out what was wrong with me, I spent twenty-eight days at the University of Wisconsin Hospital in Madison. I saw every Neurologist, Resident and Medical Student there. I was discharged with a diagnosis of Viral Encephalitis. Later, I enrolled in the UCSD statin effects study. Dr. Beatrice Golomb M.D., Ph.D. and Dr. Doug Wallace, Ph.D., both informed me that Lipitor was the likely causal contributor to the holes displayed in my brain biopsy as well as the Mitochondrial changes displayed in brain and muscle biopsies. I have since sworn off all pharmaceutical drugs.  Life has been an uphill battle since I was afflicted. I fired my primary medical doctor. He said he 'didn't want to see me die of a heart attack at 45 years of age,' and so he constantly pressured me to resume 'statin therapy' with its constant and profound daily fatigue, muscle pain, and neuropathy."
In the interview, Christopher Wunsch went on to say:
"In 2003, my wife and I were watching 'Good Morning America'. We saw Dr. Beatrice Golomb being interviewed by Diane Sawyer. They were discussing a statin effects study Dr. Golomb was going to be doing. My wife wanted me to enroll immediately. I told her Lipitor had nothing to do with what happened to me. But my wife continued to try to get me to enroll. I reluctantly agreed, thinking I knew everything there was to know about Lipitor. I never had a second thought about Lipitor having anything to do with my illness. I had all my records sent to Dr. Golomb at UCSD. I received a phone call about a year later from Dr. Golomb telling me that there were a handful of patients in her study with similar brain and muscle biopsy findings. She told me she had presented our cases to Dr. Doug Wallace, Ph.D., at UC Irvine. Wallace is reputedly one of the world's top Mitochondrial Disease experts. In his opinion, Lipitor was the causal contributor of my Mitochondrial DNA mutations, as well as the Neuronal Apoptosis seen under electron microscopy of my brain and muscle biopsies.
"I was floored!
"At one time, I thought I knew everything there was to know about this drug [Lipitor]," Wunsch went on. "Apparently I knew only what Pfizer wanted me to know.  Within a few weeks, I received a call from Dr. Wallace, who told me that he would not tell me what to take and what not to take, but Dr. Wallace made it clear that if I should consider choosing to take a Statin again, there is only one way for me to go: 'Never Again.' I fired my doctor, who was insistent that I get my cholesterol checked and under control: The jerk!
"Four years ago, Pfizer was running an ad campaign. Pfizer was asking people to share the great things Lipitor has done for them at http://www.lipitor.com/mystory  I shared my story! I laid everything out. I received a letter in the mail several days later, 'We're sorry to hear of your illness and that you think Lipitor may have been a factor. As you know, Lipitor has been extensively studied for 17 years and has an exemplary safety and efficacy record...blah, blah, blah.' I told my wife if I should suddenly disappear, she should have the river bottom dragged, as I may be down there wearing a pair of cement shoes. Pfizer encouraged me to contact MedWatch.com  (which is a pseudo government agency)."
"I continue to suffer with what Lipitor did to me but I am supported by my wonderful family and our faith. Thank God. I encourage everyone to visit your WebPage SUE! Statins!," Christopher Wunsch concluded.
Established in 2012 by Evans Consulting Services, SUE! Statins! is dedicated to good health. SUE! Statins! exposes Statin Drugs as a public health menace. "Medicine must be returned to people motivated by compassion and taken away from those who are motivated by greed."