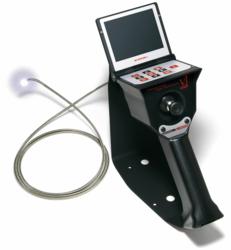 ... you would be amazed the FOD (foreign object debris) that can get caught in all different areas of the cockpit. It is a life saver, literally, to have a borescope that is not only portable, but easy enough and priced well enough that anyone can use it.
Gaylord, Michigan (PRWEB) July 16, 2012
In 2009, Southwest Airlines was one of the first buyers of RF Systems Lab's original video borescope, the VJ-STR. After three years of satisfactory performance, Southwest has subsequently purchased multiple units of the latest video borescope from RF System Lab, the VJ-Advance. Southwest uses the 6.9mm VJ-Advance on their Boeing 737s for routine inspections. The VJ-Advance is available with a 6.9mm diameter insertion tube as well as a new 3.9mm diameter insertion tube, designed specifically for the aviation community. While the 6.9mm scope is perfect for large engines such as the CFM56, JT9 or Trent 800, the new 3.9mm unit is ideally suited to the PT6 and other compact turbines.
The VJ-ADV from RF System Lab has a unique combination of features anda very competitive price. Using the VJ-ADV, aviation technicians are now able to conduct engine and airframe inspections quickly and easily, documenting with pictures and video the condition of any internal component or inspection target. The VJ-ADV has become a standard tool for use during annual inspections, pre-buys and diagnostic or repair work.
MROs have also found that aircraft owners are more willing to approve recommended repair or maintenance work when they have a visual picture of the condition being addressed. Using before and after photos, each repair is well-documented, ensuring owner satisfaction and aiding record keeping for insurance and liability purposes.
The VJ-Advance from RF System Lab features an ergonomic pistol grip design and joystick-controlled 4-way articulation. Additional benefits include on-board image and video capture capability, variable LED illumination and built-in 3.5" LCD display. This ground-breaking video borescope is available with insertion tube lengths ranging from 1.5 to 5.0 meters. Whether you work on PT6s or GE90s, or anything in between, there is a VJ-ADV model with the correct length and diameter to fit your needs.
Industry-First Demo Program
RF System Lab is so confident in the value and performance of the VJ-Advance video borescope that the company offers a no-cost, no-obligation demo program. With this program, technicians interested in evaluating the VJ-Advance can demo a unit at their facility for 3 full days. The borescope is so compact it ships easily via UPS, and it is so easy to use, no salesperson needs to be onsite to conduct training. This "try before you buy" demo program has become extremely popular across the aviation maintenance industry.
For further information or to request a no-cost, no-obligation demo unit to evaluate in your facility, call RF System Lab at 989-731-5083.