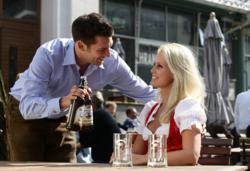 "Any beer party is better in lederhosen," said US Hacker Pschorr model Nicole Bailey. "And besides, what woman doesn't love a man wearing leather?"
Littleton, CO (PRWEB) July 05, 2012
Like a kilt is to a Scotsman, lederhosen is to a Bavarian. Every true German beer-drinking enthusiast knows that wearing lederhosen is not only a Bavarian's rite of passage but they are also proper drinking attire. Hacker-Pschorr, the famed six-centuries-old traditional Munich specialty brewer and Ernst Licht Co., are giving away a pair of lederhosen monthly through the Hacker-Pschorr Lederhosen Sweepstakes on Facebook.
Through the end of Oktoberfest season, Hacker-Pschorr will give away one pair of lederhosen each month. Simply enter the Lederhosen Sweepstakes at http://www.facebook.com/HackerPschorrUSA/app_28134323652?ref=ts. Offered to U.S. residents at least 21 years old at time of entry or older, void where restricted or prohibited by law, and subject to Official Rules.
For 180 years, Germans have been wearing Lederhosen. Originally worn by woodsman and country folk from Bavaria and Austria, lederhosen are a symbol of Alpine citizenship. Every Bavarian beer drinker will radiate virility and brawn in a pair of authentic Bavarian lederhosen – just ask the lady in his life.
"Any beer party is better in lederhosen," said US Hacker Pschorr model Nicole Bailey. "And besides, what woman doesn't love a man wearing leather?"
Brewed since 1417, Hacker-Pschorr subscribes to the purity law brewing guidelines, Reinheitsgebot, which mandates that beer brewed in Bavaria consist of only malted barley, water, and hops.
Paulaner HP USA, purveyor of the world's finest beers, is headquartered in Littleton, Colo., and imports Paulaner, Hacker-Pschorr, Fuller's, O'Hara's Irish Stout, Fruli, Birra Dolomiti and Dixie beers, Vigna Dogarina and Cavallina wines, and Fuchen herbal liqueur. This list of fine imports is now available throughout the United States at upscale, on-premise establishments.