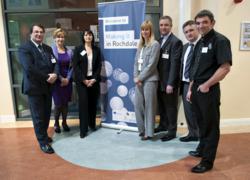 For the first time in a while, manufacturing is popular again
Rochdale, Greater Manchester (PRWEB UK) 3 July 2012
Hanson Springs, a family run business since 1964, supplies springs to the oil, gas and powergen markets. By having some of their production machinery custom built, Hanson has remained at the forefront of the worldwide spring production market, exporting up to 75% of their products and enjoying a turnover of £23m.
John Hanson, Director, commented: "For the first time in a while, manufacturing is popular again. We're starting to see apprentices entering the system who are shunning university in favour of real work experience and a job for life in a growing industry.
"The economy has been good for us; the weak pound has helped us to win orders as our main competitors are based outside the UK. There are currently few facilities in the world that can produce springs larger than us, but we have major expansion plans that will see us become the world leader in large spring production."
Tygavac manufactures and supplies vacuum bag materials used extensively by the world's leading aerospace manufacturers and airline operators. The company was awarded £1.62m of regional growth grant funding in 2011, allowing the business to move forward with its expansion plans in Rochdale.
Kerry Lee, Director, commented: "Managing the changing dynamics in our business over the last few years has been interesting, we've spent a lot of time coming up with cost savings and refocusing our service offer. Our customers have really appreciated that we've been able to pass on those savings at a time when their other suppliers have been increasing their costs.
"Traditionally it's been difficult to get parent companies to invest in the UK; there's been little encouragement for them to do so. However with the Regional Growth Fund and support agencies like Rochdale Development Agency, I can see the steps that organisations are taking to encourage the growth of the manufacturing sector, especially in Rochdale."
Pam Smith, Executive Director for Rochdale Borough Council, said: "The Council and its partners recognise the value of having over 250 manufacturing companies in the Borough, with almost 17% of employment still in manufacturing. We're proud of having such a diverse manufacturing base and the scope it offers for bringing new jobs and prosperity to the borough."
The event was hosted by Hopwood Hall College and Rochdale Development Agency and supported by MIDAS, ERDF and Rochdale Borough Council.