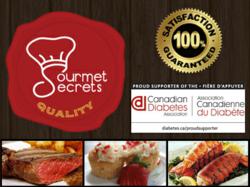 Gourmet Secrets is your ticket to some of the best food available in the world.
Canada (PRWEB) July 12, 2012
Everything is online these days, from banking transactions, to clothes shopping, to news and entertainment. Almost any aspect of life can be taken care of in a flash using the power of the Internet. Food and drink, however, are another case entirely: online food shopping usually involves buying in large, bulky quantities which work fine for wholesalers and retailers, but poorly for the customer who ends up with huge stocks of food that go to waste. Could it be any other way, though? Is it possible to not only get individual, manageable portions, but also the highest quality food the world has to offer, conveniently and easily?
Enter Gourmet Secrets, Canada's largest online gourmet food company. Since 1996, Gourmet Secrets believes that good food shouldn't be a once-a-month treat, but something one can be able to enjoy virtually whenever they want. Coming out of Alberta, Canada, Gourmet Secrets offers some of the absolute best food the world has to offer. They're all about convenience and that means not only saving time, but saving a lot of energy that typically goes into mass production and individualizing of meals. Most of all, they want their customers to be happy. Their online ordering website has, since May 2008, provided a safe, fun, easy-to-use shopping experience for customers all across Canada. They are an extremely charitable company as well. Gourmet Secrets' business thrives when they have long term and trustworthy relationships with their customers and that means they're putting out the best service and food for their customers.
Since its very first day, Gourmet Secrets has provided a wide range of quality meats. For one, all of their beef is AAA Alberta beef. All of their steaks are all aged for 21-28 days to get the maximum potential of the beef. By aging the beef, it makes the concentration and saturation of the natural flavor much more prominent in the cut. All of Gourmet Secrets' beef are free range and hormone free to give you the real natural flavor a steak should have. Depending on the cut, Gourmet Secrets provides more marbled varieties for even more flavor in their steaks.
All of Gourmet Secrets' bison is free range and are raised in Alberta. Gourmet Secrets is always introducing new bison cuts to their selection.
Gourmet Secrets ' free range chicken selection is definitely one to be proud of. All of their chicken is free range and only grain fed; no hormones, no by products and definitely not pumped with saltwater solutions.
Gourmet Secrets offers the largest selection of the highest quality fish & seafood available online. Wild fish and seafood gives an incredible difference in taste in comparison to grocery store brand fish and seafood. All of their fish & seafood product must pass a stringent inspection at their federal plant to assure their customer get only the best they have to offer.
Gourmet Secrets offer many varieties of appetizers, prepared items and exotic items as well. For those who are allergic to gluten, Gourmet Secrets has a line of celiac friendly items!
Best of all, every single product that can be ordered from the website comes in smaller, individual portions (as an example, one order of bacon-wrapped filet mignon steaks contains 12 individual steaks), flash-frozen and vacuum-sealed to preserve the freshness, then placed into an insulating container which keeps the food frozen all the way to the customer's doorstep!
Gourmet Secrets is an extremely charitable company. At this moment, Gourmet Secrets is supporting the Canadian Diabetes association. More than 9 million Canadians, including the CEO of Gourmet Secrets, are living with diabetes or prediabetes. They are raising $25,000 to lead the fight for a cure. They have sponsored products which help raise even more money for the cause.
Earlier this year, Gourmet Secrets also gave $1000 towards the Crohn's and Colitis Foundation of Canada to support A Gutsy Affair.
Since 1996, Gourmet Secrets has been working diligently to provide their customers with the very best food the world has to offer with 1st class service at affordable prices. They are committed to building a long term trustworthy relationship with their customers. Gourmet Secrets' commitment to customer satisfaction is their number one priority.
Gourmet Secrets is so proud of their food that everything is 100% Satisfaction Guaranteed. By having plenty of prime selections to choose from, one is guaranteed to indulge in quality and a nutritious meal of their choice. Most importantly, Gourmet Secrets #1 commitment is to bring you the best food in the world right at your doorstep for you to enjoy. Visit their website at http://www.gourmetsecrets.ca today.