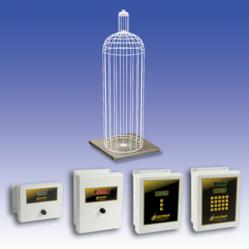 "The corrosion resistant design is essential to assure the durability and longevity our customers need for outdoor use and for use in harsh work environments."
Plumsteadville, PA (PRWEB) July 10, 2012
Scaletron Industries, Ltd., a manufacturer of corrosion resistant digital and mechanical scales, has introduced the Model 4000SS digital gas cabinet scale. The large scale base readily accommodates dewars and other large diameter gas containment vessels. With base sizes measuring 15", 24" and 30" square, the Model 4000SS scale meets gas feeding application demands in a wide range of industries including specialty gas, chemical processing, semiconductor manufacturing, oil/gas refining, fire protection and others. The standard scale accurately weighs up to 1000 lbs (453.6 kg) to within +/-0.5% of capacity.
Corrosion resistant scale manufacturing specialists, Scaletron has designed the new scale with complete corrosion resistance including stainless steel construction and hardware, corrosion resistant plating, and silicone coated NTEP-approved load cells. The scale base weighing mechanism is purely electronic -- there are no mechanical levers or other parts which can corrode and rust.
"The corrosion resistant design is essential to assure the durability and longevity our customers need for outdoor use and for use in harsh work environments," said Edward Dougherty, president of Scaletron Industries, LTD. Dougherty said the Scaletron corrosion resistance/durability added-value combination is evident in all aspects of Scaletron scales. For example, a 12-foot 4-conductor shielded cable integrates the display with the weighing base. Dougherty explained that "the cable is jacketed with PVC and sealed with strain reliefs both at the scale base and at the LCD indicator. Besides protecting external and internal parts from chemicals and weather, we've engineered numerous details like this for maximum reliability and performance."
A standard 3-1/2-digit wall mountable LCD display provides a clear readout to the nearest 1 lb/kg or 0.1 lb/kg. The display, including internal electronics, is housed in NEMA 4X, UL-approved enclosure which is resistant to chemicals including ammonia, carbon dioxide, hydrogen chloride, liquefied chlorine, sulfur dioxide and other corrosive materials. A remote mounting option permits the display to be located up to 200 feet from the scale base.
In lieu of the standard display, an optional 4-20 mA direct output is available on the 15" base size only. The 4-20mA module is mounted in the base and may be scale or loop powered (24V DC loop supply). For those preferring a larger display, Scaletron also offers an optional 4-1/2-digit display with active and passive 4-20 mA, 0-20 mA and -8 to +12 mA. Two adjustable low level contacts are included. Other display options include the Model 1020 5-digit controller with loop powered 4-20 mA, and the Model 1099 Chemical Process Controller for automation and integration of gas cabinet scale systems.
The scale base features sturdy four-point suspension of the weighing platform and the low base height (1 - 1-3/4") enables safe loading and unloading without requiring a pit or ramp. Other standard features are temperature compensated load cells and a self-locking tare adjustment knob.
For more information about the Scaletron Model 4000SS gas cabinet scale and other corrosion resistant scales, please phone Scaletron toll free 1-800-257-5911. The Scaletron web site also offers detailed information including drawings, OEM manuals and bid specifications: http://www.scaletronscales.com
About Scaletron Industries, Ltd.
Scaletron Industries, Ltd. is the industry leader in corrosion resistance technology for scales used in the harsh environments of the municipal drinking water and wastewater treatment industry, as well as for use in industrial water and wastewater treatment. Scaletron Industries has been manufacturing electronic base scales since 1983 and manufactures a full line of electronic scales including cylinder, ton cylinder, drum, tank, platform, and spill containment, for use in many different applications that offer a high degree of accuracy to 0.1%. Scaletron also manufactures other mechanical and electronic scales for weighing chemicals commonly used in the water treatment industry including chlorine, sulfur dioxide, ammonia, hydrogen chloride, carbon dioxide, and other liquid or liquefied gas. Scaletron offers a full, 5-year warranty on all products.
Model 4000SS, Model 1099 and Model 1020 are registered trademarks of Scaletron Industries, Ltd., Plumsteadville, PA.