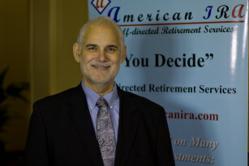 The key to doing more and larger deals is using other people's money.
Atlanta, GA (PRWEB) July 12, 2012
American IRA thanks Gene Trowbridge, Esq., CCIM and all meeting participants for a great turnout at the Raising Private Capital Webinar. Jim Hitt, CEO of American IRA says "This was a great webinar with great information and a great audience."
It is getting more and more difficult to obtain traditional financing in this economic climate. Additionally, new regulations are being placed on those who wish to offer private financing making some would be private lenders hesitant to loan out that money. Gene Trowbridge, Esq., CCIM brought expertise to the webinar and provided valuable information for private lenders and those looking for hard money loans to help them navigate through the new rules and regulations so they can get those deals moving. As Gene Trowbridge, Esq., CCIM says "It's a Whole New Business!"
Here is a short recap of what was presented at the webinar:
*Being a group sponsor
*Fully specified syndications
*Semi-specified syndications
*Blind pools
*What is a security?
*Howey 4-prong test
*Intrastate exemption (rule 147)
*Accredited Investors
*Advertising and solicitation
*Crowdfunding
*Prequalification questionnaires
*Subscription agreements
*2 tiered LLC structure
*Managing member LLC
*Owning LLC
*How much you can get paid
*What investors expect and deserve
*Upside for investors
*Upside for sponsor
*Getting started forming an LLC
*Getting started acquiring property
*Private placement memorandum
*Operating agreement
*and so much more....
Jim Hitt says "We want to extend our sincere thanks and appreciation for the excellent information Mr. Trowbridge shared. We will also be releasing a recording of this webinar on our website so that those who missed it can view it. This webinar was made even better by the great turnout we had."
To order a free copy of this webinar, please click here: http://www.americanira.com/request-free-raising-private-capital-business-dvd/
About:
American IRA, LLC was established in 2004 by James C. Hitt in Asheville, NC.
The mission of American IRA is to provide the highest level of customer service in the self-directed retirement industry. Mr. Hitt and his team have grown the company to over $250 million in assets under administration by educating the public that their self-directed IRA account can invest in a variety of assets such as real estate, private lending, limited liability companies, precious metals and much more!
To learn more about American IRA, LLC and self-directed IRAs/self-directed Solo 401(k)s, please contact our office at 1-866-7500-IRA(472).
As a self-directed IRA administrator they are a neutral third party. They do not make any recommendations to any person or entity associated with investments of any type (including financial representatives, investment promoters or companies, or employees, agents or representatives associated with these firms ). They are not responsible for and are not bound by any statements, representations, warranties or agreements made by any such person or entity and do not provide any recommendation on the quality profitability or reputability of any investment, individual or company. The term "they" refers to American IRA, located in Asheville, NC.