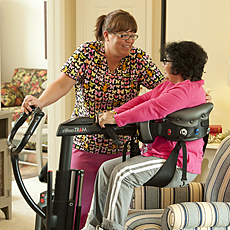 The TRAM really is three pieces of equipment in one – at a very competitive price. It offers transfer functionality as well as weight-bearing and ambulating capabilities. - Charles Schramm, OTR/L, Albany, NY
Rifton, NY (PRWEB) July 06, 2012
Product designers at New York-based manufacturer Rifton Equipment are announcing today the launch of a new patient mobility device. Combining three discrete functions in one compact, ultra-light frame, the TRAM allows a single caregiver to assist a patient with:
1. Seated transfers with no under-body sling (ideal for toileting)
2. Sit-to-stand lifts
3. Supported ambulation
"We wanted to create a device durable enough to handle a wide range of patient sizes and capabilities in an institutional setting yet small enough to permit easy maneuvers in the home," says Kirk Wareham, Rifton's Operations Manager who coordinates new product design for the company.
At just over 70 pounds and featuring a telescoping lift column, the TRAM's compact, ultra-light frame permits superior maneuverability in tight spaces and its patent-pending body support system and low profile provides patients with the security and dignity of unobstructed eye contact with their caregivers and surroundings.
"The TRAM will be attractive for several different types of patients: geriatric patients in skilled nursing facilities or at home, non-ambulatory adults with developmental disabilities, post-op patients in the hospital setting who need early mobilization, and victims of traumatic brain injury or spinal cord injury," says Clare Stober, Rifton's creative director for marketing. "We feel there is nothing else like it available today."
Like all Rifton products, the TRAM was designed and is manufactured entirely in the US at its New York facilities.