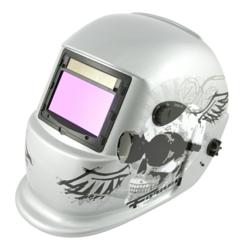 "Our helmets are ahead of the curve in their unique designs and advanced technology," said Bill Travnick, Forney's VP, New Products and Business Development.
Fort Collins, Colorado (PRWEB) July 12, 2012
Forney Industries (http://www.forneyind.com), one of America's longest operating family-owned welding and metal working tool and equipment companies, announced today the introduction of two new designer welding helmets -- for welders who like to be ahead of the curve. The new helmets are available at Forney dealers across America.
The cool "rebel" skull design and patriotic "red, white, and blue" helmets join Forney's long line of award-winning and distinctive helmets that are the right fit for arc, MIG or TIG welding. Plus, the auto-darkening lens on these new helmets offers a 28 percent larger viewing area (3.86" x 2.17") and four optical sensors.
These designer helmets also include outside mounted shade selector knobs for easier adjustment to light sensitivity. One of the main features is the near instantaneous light-to-dark switching time at 1/30,000th of a second after the arc is struck. And, Forney's advanced geared headband technology reduces a welder's head movement in lowering the face shield prior to welding. This major improvement reduces head-and-neck strain and general fatigue from repeated lowerings of the face shield in daily welding operations.
These innovative and patented helmets are constructed of lightweight impact-resistant nylon and come standard with solar cells and built-in replaceable 3V lithium batteries. All Forney welding helmets meet DIN, ISO and EN Safety Standards and ANSI Z87.1 Safety Standards.
"We know that welders like to speak to their individual tastes and there are lots of designer helmets on the market these days," said Bill Travnick, Forney's vice president of new products and business development. "But our new helmets are ahead of the curve in their unique designs and advanced technology."
Travnick also acknowledged Barb Trujillo, who designed the new helmets. "I think Barb has taken another step in adding integrity into her art. It's not until you look closely at her designs that you realize the multi-layered aspects she's included which depict the welding trade and craft."
Trujillo said, "I wanted to create something that would allow welders to choose their own style—whether that's a "rebel" look, or a salute to American manufacturing and patriotism—but also, a design that integrated the tools of our trade into the art."
For more information about the wide line of Forney's award-winning welding helmets and welding tools and accessories, see the website at: http://www.forneyind.com.
# # #