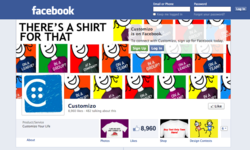 Founder and CEO Ryan Saunders affirms, "leveraging social media and crowdsourcing to innovate the group apparel and promotional products space through ideas like Text Only Tees allows us to uniquely position Customizo.com with a younger demographic.
Chicago, IL (PRWEB) July 03, 2012
Izo introduces its latest social media mashup with Text Only Tees on Customizo.com, a progressive custom apparel and products ecommerce website. Popularized on Customizo's Facebook page and trending on Twitter as #textonlytees, the promotion delivers cheeky, notable phrases on American Apparel tees.
The premise of Text Only Tees is to describe an image, and print the resulting text on a t-shirt rather than the image itself. Examples include 'mona lisa with sunglasses', 'a zombie above the word "brains"', 'borderline offensive kickball team name', and 'two fists bumping with poorly chosen beer pong team name'.
Interactive social media outreach and crowdsourcing enriches the Customizo experience by allowing the Izo team to proactively engage with its customer base and deliver unique designs targeting their preferences. Users are encouraged to submit their own ideas on the Customizo Facebook page or via Twitter (@customizo), using the hashtag #textonlytees.
The Izo team may even choose a user-submitted idea to print for Customizo.com. Currently, Text Only Tees are available through the Shop tab of their Facebook Fan Page and on Customizo.com.
About Customizo and Izo Brands: Izo is knitting the framework for the future of e-commerce with a multi-faceted set of innovative product customization and design tools, a unique group collaboration interface, and mobile media distribution applications. Izo's mission is to be the most customer-centric, creative, and innovative company in the custom apparel and promotional products industries.