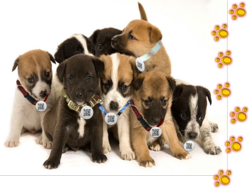 Palm Coast, Fl. (PRWEB) July 11, 2012
MyInfo911 has recently developed an innovative line of emergency ID products for pets, MyPetInfo911. Anyone who has ever had a missing pet knows all too well how upsetting an experience it is, and in spite of good intentions, the person finding an unidentified pet is often frustrated in his attempts to locate the rightful owner. This can result in the pet being left on the street to fend for itself, risking injury, illness or even death, "adopted" by someone other than the rightful owner, or picked up by animal control and put in a shelter to face an uncertain future.
MyPetInfo911 has come up with an innovative new program to give pet owners added peace of mind. A special MyPetInfo911 ID tag easily attaches to the pet's collar and features the state of the art Quick Response (QR) Code. When scanned by an ordinary smart phone, MyPetInfo911 technology provides the party scanning the code virtually instant access to a photo of the pet for visual confirmation as well as contact information on the pet's owner and veterinarian. Next, in response to the scanning of the QR Code, MyPetInfo911 automatically sends email alerts to the owner and an additional emergency designate. The party finding the pet is then prompted to provide the location of the pet, which is also emailed to the owner. GPS mapping assistance is provided to the owner for assistance in getting to that location.
MyPetInfo911 provides the pet owner the option of providing medical information on the pet, which can also be accessed by scanning the QR Code, enabling a caregiver assistance in treating an ill or injured pet, advising of the dogs temperament, likes and dislikes. This information can be input and updated by the owner alone and is stored securely on the MyPetInfo911 servers.
MyPetInfo911 provides the owner a specially designed Pets Record Management Folder to conveniently store all the pertinent paperwork on the pet, such as pedigree papers, groomer's information, veterinarian information, shot record, dietary needs, medical history, etc.
Please visit http://www.mypetinfo911.com for more information on this innovative product.
About MyPetInfo911
Its parent company, MyInfo911 started in October 2010, providing emergency ID products to help save the lives of people. Launched in June 2012, MyPetInfo911 now does the same for our furry family members. These tags can help save the lives of our pets and get them home safely!