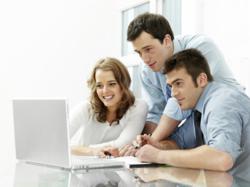 Mark Bloodworth, Technology Strategist, Microsoft says: "Ensuring compatibility with Microsoft's recently released SQL Server 2012 demonstrates the commitment of IRIS Accounting & Business Solutions
(PRWEB UK) 5 July 2012
IRIS Accounting & Business Solutions has worked closely with Microsoft around the recent release of SQL 2012 and is delighted to announce that IRIS Exchequer now supports SQL 2012.
FDs and IT managers have very different agendas and priorities but there is a common theme, and that's a successful organisation. The FD needs an accounting software solution that meets the needs of the business and the IT manager needs an IT infrastructure that's reliable.
IRIS Exchequer MS SQL edition delivers both.
It comes as no surprise that Microsoft SQL Server is one of the most prolifically used databases in many applications, and many organisations' IT infrastructures are often wholly Microsoft-based.
With this in mind there is always a feeling of confidence around the benefits of using such an extensively used database. They are well supported, well-maintained, well-developed, compatible with other Microsoft products and other providers look to develop their software using the MS SQL database.
This familiarity of environment is often a key driver for organisations considering migrating to the MS SQL edition of IRIS Exchequer.
MS SQL databases are easily maintained using the inbuilt Management Studio, and a full MS SQL Server installation comes with 'out-of-the-box' data access tools including Reporting Services, Business Intelligence and Analysis Services, making data interrogation simple and effective.
Mark Bloodworth, Technology Strategist, Microsoft says: "Ensuring compatibility with Microsoft's recently released SQL Server 2012 demonstrates the commitment of IRIS Accounting & Business Solutions and Microsoft together to provide our shared customers with the benefits and advantages of leading edge technology."
The IRIS Exchequer MS SQL edition implementation process is fully supported with pre-configured maintenance plans, fully documented details of individual tables, sample queries and a full Back Up and Restore Utility that lets users manage their multiple company database recovery needs with ease.
Paul Sparkes, Product Director, IRIS Accounting & Business Solutions says: "We have over recent release focused heavily on the MS SQL edition of the Exchequer system looking for ways to maximise on performance benefits within our software by using new approaches to data access, but by using up to the minute platforms our customers can now capitalise on the improved experiences SQL Server 2012 delivers."
The widely used and developed MS SQL database opens up more opportunities for reporting, data analysis and business intelligence. With a common database platform, both cross system integration and reporting becomes a reality.
For further information about Exchequer and SQL 2012 please click here,call the Client Services team on 0844 815 5594 or email exchequer(at)iris(dot)co(dot)uk.