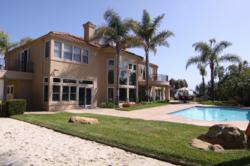 AToN Center, located in San Diego County, adjacent to Rancho Santa Fe, recognizes Alcoholism and Addiction as having the potential to impair a person's functioning, and over time, destroy their quality of life.
San Diego, CA (PRWEB) July 12, 2012
AToN Addiction Treatment Center is thrilled to announce the opening of its second residential treatment home. Located right next door the original house, with a beautiful pathway that adjoins the two, the second home includes two plush acres of land with retreat-style accommodations in a serene and secluded environment. The second home ups the capacity to 12 clients with private suits available. The new acquisition like the original provides luxurious room accommodations. The second home also adds a full size sand volley ball court and a second pool for relaxing in San Diego County's perfect weather. See Photos of the new addiction treatment center.
Addiction is epidemic in our society. One in four people know someone with a chemical dependency issue. Far too often we hear about the ravages of alcoholism, drug abuse and their results. The tool at hand for addressing this problem is treatment of the addicted individual and education of the public at large. AToN Center, located in San Diego County, adjacent to Rancho Santa Fe, recognizes Alcoholism and Addiction as having the potential to impair a person's functioning, and over time, destroy their quality of life. It is AToN Center's mission to provide an opportunity for these individuals to find recovery, while restoring their balance, and equipping them with the tools necessary to live healthy and substance-free lives. AToN Center is unique in that they offer an integrated approach, providing each client with exposure to a broad scope of recovery services, encompassing the best practices in the fields of psychology and chemical dependency. In addition to holistic methods, individual and group therapies, alternative treatment methods, biofeedback, and medical interventions, AToN Center also integrates 12 Step and SMART® model principles. Family sessions are also offered and encouraged. It is AToN's belief that a "one size fits all" approach to addiction recovery can be ineffective, and that each client deserves the opportunity to experience a multitude of therapeutic approaches in order to create a treatment plan that best fits their unique needs and experiences.
This intensive treatment approach balances the client's therapeutic experience and provides a format for developing the cognitive understanding, emotional stability and constructive behavioral habits that are essential to initiating and maintaining recovery. AToN Center strives through a careful assessment process, to develop a comprehensive understanding of each individual within the context of his or her own belief system. AToN Center's multifaceted treatment team employs a philosophy of holistic healing, with attention to each client's mind, body and spirit.
AToN Center is a structured, but not overly structured chemical dependency program that seeks to provide a therapeutic environment of motivated individuals who are committed to recovery services. The program has clear expectations and treatment goals that are individualized for each resident. AToN Center does not believe in treating people in isolation and from only one perspective and thus offer a variety of services. AToN Center cares for the "whole person", rather than compartmentalizing treatment and offers nutritious, organic cuisine, as well as holistic services including: Massage, acupuncture, EMDR, energy healing, hypnotherapy, yoga, and personal training.
Aton Center curriculum provides a minimum of 5 hours individual sessions per week with doctoral level staff and certified chemical dependency counselors, as well a minimum of 16 hours of group therapy weekly with a group size limited to 6 residents. In addition, 4 holistic services are included per week. Family therapy is offered with 90-minute sessions and is strongly encouraged.
Please contact AToN Center's Director of Business Development Jessica Yaffa with additional questions or interview requests. Ms. Yaffa can be reached at (858) 837-3635.