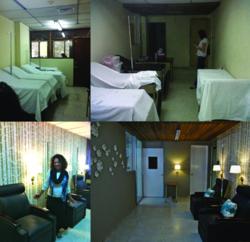 This space will provide a peaceful and healthy environment to women being treated for a variety of women's cancers
New York, New York (PRWEB) July 24, 2012
This August, Basic Health International will partner with RoomsThatRock4Chemo to transform the chemotherapy clinic at the National Maternity Hospital in San Salvador, El Salvador. Lead by Nancy Ballard, and joined by San Francisco designers Kimball Starr, Taylor Watts and Mario Ballard, the RoomsThatRock team will collaborate with local vendors and volunteers under the guidance of Basic Health International's Medical Director, Dr. Mauricio Maza, to change the current spaces into warm, vibrant and peaceful environments.
This joint effort will bring comfort and beauty to those suffering and those involved with their care. "We feel quite fortunate for this invitation to help in El Salvador, and appreciate the kindness, generosity and sweetness of those we will be working for and with," said Nancy Ballard.
RoomsThatRock4Chemo is a nonprofit organization devoted to creating healing and uplifting spaces that spiritually, emotionally, and physically support those dealing with challenges to their health. To date, they have transformed 27 rooms that serve roughly 40,000 patients annually.
Previous RoomsThatRock4Chemo project sites include Marin Specialty Care in Greenbrae, California, The Sequoia Hospital in Redwood City, California, and The Cancer Institute in San Salvador, El Salvador. Nancy and her team first traveled to El Salvador to redesign six cancer treatment rooms at the Cancer Institute. Their design results were so remarkable that they were invited back to help transform the National Maternity Hospital, the only other public cancer treatment space in El Salvador.
This space will provide a peaceful and healthy environment to women being treated for a variety of women's cancers, including cervical cancer.
Cervical cancer is the third most common cancer in women worldwide. Each year, over 500,000 women globally are diagnosed with cervical cancer and 270,000 women die from this disease. Close to 90% of invasive cervical cancer cases occur in the developing world, and in many countries, including El Salvador, cervical cancer is the leading cause of cancer death among women.
About BHI
Basic Health International (BHI) was founded in 2005 with a mission to eradicate cervical cancer in Latin America and the Caribbean. We utilize our expertise in women's health to provide clinical training, research and public policy guidance in the field of cervical cancer screening and treatment, particularly for women in low-resource settings. Our offices are located in New York City and San Salvador, El Salvador.