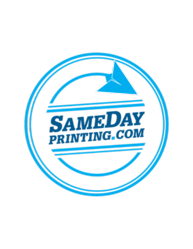 SameDay Printing makes online printing easy for everyone.
Miami, FL (PRWEB) July 16, 2012
SameDay Printing, America's fastest online printer, announced today that it launched an all-new SameDayPrinting.com. The website connects customers with the only online printing company that provides same day turnaround on all their print products at no extra charge.
The new website provides customers with more valuable content, such as product pages and customer-generated reviews that help them find exactly what they want, when they want it. The site also features expedited checkout, making it easier than ever to find and buy print products online.
"Our new site not only helps make the buying experience that much easier, but it's also a rich portal for printing information," says Kevin Henao, vice president of SameDay Printing. "We're looking forward to having our customers experience the fastest, easiest, most convenient printing services anywhere in the country – online and off."
The new website offers a contemporary look and streamlined user experience. The brighter, more user-friendly site is a true resource for small or home-based businesses, event organizers, religious groups, graphic designers, or anyone who needs fast turnaround on first-rate printing. SameDay Printing's new site streamlines the entire ordering process, and offers valuable content and enhanced features and functionality designed exclusively for the discerning print buyer.
"SameDay Printing makes online printing easy for everyone," adds Henao.
The new SameDayPrinting.com lets customers enjoy a much simpler and user-friendly e-commerce interface. The purchasing process for print products has also been simplified, as has the account creation process. In keeping with SameDay Printing's mission to deliver the best online printing experience, the new website also serves as a platform for gathering input from SameDay Printing customers. In the future this data will expand into a forum for all print buyers to share ideas or recommendations.
"With a new interface and e-commerce solution, SameDay Printing is excited to launch the new website in order to create a seamless transition from website visitor to customer," says Kevin Plankey, vice president of marketing for SameDay Printing.
Visit SameDayPrinting.com and see it today for yourself!
About SameDay Printing
SameDay Printing is the nation's fastest high-quality online printer. The company is fast becoming an industry leader for its unparalleled combination of great products, low prices and incredible turnaround time. Headquartered in Miami, Florida, with a printing plant in Atlanta, Georgia, SameDay Printing's products include business cards, postcards, flyers and posters, and can be ordered online 24 hours a day, 7 days a week at SameDayPrinting.com.
Media Contact For SameDay Printing:
Kevin Plankey
kplankey(at)samedayprinting(dot)com
305.848.3333