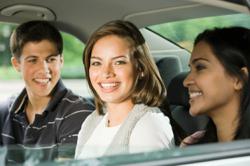 We are thrilled to be offering our drivers education courses online because we understand how busy teens have become today. The online format is a great match for their busy schedules
Alexandria, Virginia (PRWEB) July 19, 2012
B Line Traffic schools is now making available a state approved online Virginia drivers education course. This will allow Virginia residents to take this course from practically any location with internet access. Parents who have a hard time getting their teens to and from after school drivers ed classes can save time and money by enrolling their children in this online course.
When a teenager is 15 years old, he or she is eligible to take a Virginia drivers education course. By taking the B Line Traffic Schools online class, there is no need to go to a traditional classroom. In addition, being able to work on the course as much or as little as time allows is a great way for a busy teenager to handle the drivers ed course.
"We are thrilled to be offering our drivers education courses online because we understand how busy teens have become today. The online format is a great match for their busy schedules," stated Bryce Young, VP of Marketing for B Line Traffic Schools. The drivers ed course covers all basic traffic regulations and helps students gain the knowledge necessary to become a safe driver. There are multiple modules divided into 8 units. The format uses a variety of media and is designed to be interactive. The coursework is automatically saved so that you can begin your studies right where you left off the last time you used the program.
There are multiple choice quizzes at the end of each unit and they can be retaken until a passing grade is reached. The final exam may also be taken multiple times until an 80% passing grade has been achieved. The Virginia drivers education course satisfies the 30 hour classroom requirement and a certificate of completion will be issued when the course has been completed. The certificate of completion must be presented at your local DMV office when you are ready to take the written permit test. If you would like to learn more about this online drivers ed course, visit http://www.blinetrafficschools.com/drivers-ed/virginia/
About B Line Traffic Schools:
Founded in February 2009, B Line Traffic Schools' mission is to provide customers with the easiest and most convenient way to keep infractions off of their licenses, reduce insurance rates, prepare for DMV tests, attend online traffic school and even attend online drivers ed. All courses are online and allow users to learn the material at their own pace. B Line Traffic Schools is a privately held company and is headquartered in San Diego, California. For more information, please visit their website or contact them at 888-496-6904.