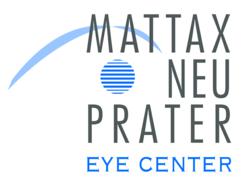 A cataract interferes with the way light passes through the lens, in much the same way that fingerprints or smears on a window interfere with your view of what is on the other side of the glass."
-Dr. James Mattax
(PRWEB) July 31, 2012
During August (Cataract Awareness Month), the eye surgeons at Mattax Neu Prater Eye Center expect to be handling more questions about what a cataract is—and explaining what it is not.
"A cataract is not a cloudy film on or near the surface of the eye, and it's not an uncommon eye condition," says Dr. James Mattax. "It is actually a clouding of the lens, located inside of the eye. A cataract interferes with the way light passes through the lens, in much the same way that fingerprints or smears on a window interfere with your view of what is on the other side of the glass." He adds, "Some people have described their vision with cataracts as looking at the world through waxed paper."
Cataracts do NOT cause pain, discomfort, redness, discharge, or sudden, alarming vision changes that would lead someone to seek immediate medical care.
"The changes caused by cataracts generally develop so slowly that you don't notice them until they are serious enough to affect your normal lifestyle," says Dr. Kenneth Neu. "Sometimes, a patient will tell me that they can no longer follow the path of their golf ball—that it just blends into the sky—or that they are having trouble keeping an eye on the tennis ball. Others complain that glare has become a problem, particularly when driving at night."
Dr. Leo T. Neu III adds, "Staying active is an important part of maintaining a healthy body and mental attitude that a person will need to remain independent. When a cataract or other vision problem makes a favorite activity more frustrating than enjoyable, you are more likely to quit doing it. With every activity and every hobby reluctantly left behind, the world becomes a smaller place, and that doesn't have to happen, though. Surgery to correct a cataract is safe, comfortable, effective and affordable."
"Cataract surgery is very convenient at our outpatient surgery center," says Dr. Thomas Prater. "We replace the clouded natural lens with a clear lens implant that takes over the job of focusing light as it enters the eye. Patients are often amazed that the entire process is finished in as few as 15 minutes, and a short time later, they are on their way home."
The doctors at Mattax Neu Prater Eye Center have included a "Cataract Quiz" on their website, http://www.MattaxNeuPrater.com. "Taking the quiz is a great way to learn more about the symptoms of cataracts," says Dr. Prater. Visitors to this website will also find a fount of information about cataracts and the surgery to correct them. "Lifestyle" replacements lens implants that may reduce dependence on reading glasses and bifocals after surgery are explained. The website also features a photo tour of Mattax Neu Prater's state-of-the-art outpatient surgery center.
If the diagnosis is cataracts, the next step is choosing a surgeon to correct the problem. A cataract surgeon who has had more opportunity to perfect his or her technique is likely to be more skilled than a surgeon who has had less 'practice.' Ask how many cataracts the surgeon has removed; the number should be in the thousands.
Mattax Neu Prater's cataract surgeons have restored clear vision to more than 46,000 eyes. They encourage anyone who suspects that they have a cataract to schedule a consultation by calling (417) 886-EYES (3937).