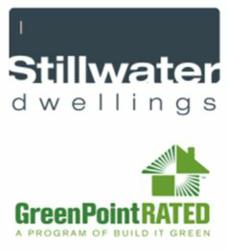 As architects & builders of residential homes for over 14 years, Stillwater Dwellings brings with them a unique perspective of prefab home versus typical site-built home construction.
San Francisco, CA (PRWEB) July 03, 2012
Stillwater Dwellings and the North Bay Guild (Marin County / San Francisco) of the Build It Green organization will be hosting a presentation and discussion on residential prefab homes, and specifically how they work within the GreenPoint Rated green building certification system. The presentation is an opportunity for industry professionals and potential homebuyers to gain a better understanding of Stillwater's prefab home process, the GreenPoint Rated system, and to meet local industry professionals. Bart Mitchell from Stillwater Dwellings is one of three partners in the company, and prior to Stillwater was a site-built residential home builder in Seattle. He brings with him a unique perspective of prefab versus site-built home construction. Stillwater's presentation will focus on their completed prefab home projects, their systems-based prefab construction process and it's specific green building benefits, how it compares to a site-built home, and how their prefab homes address the various items in the 5 categories of the GreenPoint Rated system.
DATE: Wednesday, July 11, 2012
LOCATION: Marin Builders Association, 660 Las Galinas Avenue, San Rafael
SCHEDULE:
Networking: 5pm—5:30pm
Presentation: 5:30—6:30pm
Open Discussion/Q&A: 6:30—7pm
COST: $10 members, $15 non members.
REGISTER: http://www.builditgreen.org/en/cev/486
About Stillwater Dwellings:
Stillwater Dwellings, headquartered in Seattle, Washington, was founded by prominent residential architects and a custom home builder. Their goal: to make contemporary design, premium materials and sustainable building practices more affordable. Stillwater prefab homes are designed with dramatic natural lighting, intelligent floor plans and premium contemporary finishes, for exceptional quality and value and marketed throughout the western United States.
About Build It Green:
Build It Green is a professional non-profit membership organization whose mission is to promote healthy, durable, energy – and resource-efficient building in California. Supported by a solid foundation of outreach and education, Build It Green connects consumers and building professionals with the tools and technical expertise they need to build quality green homes. Among these tools is GreenPoint Rated, which is an objective, third-party residential green building verification system that offers an array of benefits for different stakeholders. The North Bay Green Building Professionals Guild meets monthly on the second Wednesday of each month in San Rafael.