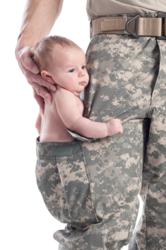 Instead of arguing for special treatment based on veteran status, this article offers practical tools to meet the 'best interests' of the military child.
Los Angeles, CA (PRWEB) July 03, 2012
Over two million children have had a parent mobilized for military duty since September 11, 2001. During the last decade of combat operations, one in five service members has become a casualty of either Post-Traumatic Stress Disorder (PTSD) or Major Depression. For these 20% of service members who return home in a different mental and emotional state from when they left, the possibility of divorce and child custody disputes is very likely. Despite increasing recognition that combat veterans' mental health needs demand a specialized approach to sentencing and adjudication in criminal courts, this lesson has yet to reach family courts. The reality of sustained combat operations raises these questions: Are the family courts prepared to intervene effectively when parents suffer from combat-connected mental conditions? Can family court judges and custody evaluators set aside common bias against parents with mental illness, in addition to common bias against parents who have served in the military? These issues are addressed in depth for the first time by author Evan R. Seamone in his Family Court Review article, "Improved Assessment of Child Custody Cases Involving Combat Veterans with Posttraumatic Stress Disorder" (Vol. 50, 2012).
As a Major in the Army's Judge Advocate General's Corps and Veteran of Operation Iraqi Freedom, Seamone has written extensively on PTSD in criminal cases, focusing on "invisible wounds of war" in the family courts for two reasons. First, families are normally the first to suffer from symptoms of their relative's combat PTSD. In these cases, family members, especially vulnerable children, can experience not only interpersonal violence, but the transmission of combat trauma (Secondary Traumatic Stress) when these conditions go untreated. Second, family courts have not embraced PTSD-themed cases with the same urgency and innovation as the many criminal courts throughout the Nation, which recognize the importance of treatment in sentencing and all aspects of adjudication. This is problematic, Seamone argues, because the family courts are likely to deal with these issues more frequently given a broader mandate to handle all aspects of a family's disputes, not only criminal behavior.
The value of the article, says Seamone, is that it offers a number of practical tools instead of arguing for special treatment merely based on veteran status. In family courts, the goal is always to determine what parenting arrangements are in the "best interest of the child," and Seamone's insight helps courts, lawyers, and custody evaluators distinguish special issues in military families that make them different from families in other professions. He describes the nature of the deployment cycle and other aspects of the military career model that will often shape intrafamilial relationships. He then highlights how PTSD is largely a treatable condition and, further, that ongoing contact with one's children significantly improves the likelihood of prompt recovery from PTSD. With the potential for violent impulsive behavior, PTSD is a condition that often leads judges and custody evaluators to overestimate the likelihood of harm. As a result, Seamone emphasizes the importance of a "differentiated" approach that looks at an individual's demonstrated parenting ability. Under this approach, specific treatment considerations for trauma survivors and for parents of different genders can help avoid aggravating the parent's condition and allow the child to understand the parent's experience rather than blaming himself or herself for witnessed symptoms or stress reactions.
Seamone concludes with the novel suggestion that family courts, much like the new Veterans Treatment Courts in the criminal system, should incorporate the Department of Veterans Affairs' (VA's) own treatment plans and family treatment programs as supplements to help them achieve optimal custody arrangements. By stepping away from generic treatment programs operated by the state, families can benefit from the VA's expansive health care network, new focus on family initiatives, and the types of gender-and trauma-informed services that increase the chances of prompt recovery from PTSD.
About the Author
Major Evan R. Seamone is the Chief of Military Justice for Fort Benning, Georgia. He has served in the Army for the last nine years, helping service members with family law issues while deployed in Iraq and instructing attorneys on the way PTSD influences client decision-making in family law and criminal cases. Seamone's recent article, "Reclaiming the Rehabilitative Ethic in Military Justice," has been featured by The New York Times, The Wall Street Journal, The Military Times, ABC News and The Associated Press. He has published more than eleven scholarly articles in law journals on varied topics and is the co-editor for a special issue of the Family Court Review that covers special considerations for military families in the legal system.
The Family Court Review is an interdisciplinary journal published by the Association of Family and Conciliation Courts. The article, "Improved Assessment of Child Custody Cases Involving Combat Veterans with Posttraumatic Stress Disorder," may be accessed below.
####