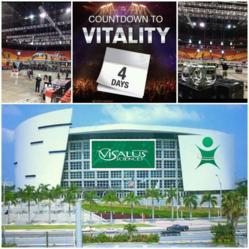 Vitality will be one of the most exciting events that the Network Marketing industry has ever seen.
(PRWEB) July 10, 2012
VISALUS VITALITY is the event of the year for 2012 that everyone in the Network Marketing industry is talking about. It's the annual celebration of Life, Health and Prosperity that will be taking place at the American Airlines Arena July 13th to the 15th in Miami. Vitality will be the biggest event that Visalus has ever seen with approximately 19,000 people expected to attend. The MLM Super Heroes will be flying in from all four corners of the globe to attend the event.
"Vitality will be one of the most exciting events that the Network Marketing industry has ever seen" stated Darren Little, CEO and founder of the MLM Super Heroes. "Nothing can take the place of the energy and momentum that is created from attending events. It's like adding nitrous oxide to fuel and Vitality will be life changing for those that attend".
People will have the opportunity to meet the Founders and Management Team behind ViSalus and the Body by Vi™ Challenge including Ryan Blair, Nick Sarnacola and marketing genius Blake Mallen.
Top Visalus income earners, promoters, customers and people looking at Visalus for the first time will be attending the event. Vitality will be packed with motivation, vision, news of new products and future plans for global expansion. Top ViSalus Ambassadors will teach Promoters simple strategies on how to have success promoting The Challenge. It will be the biggest event in ViSalus history.
ViSalus is currently experiencing record growth. According to a Company press release - their sales grew seven fold from $34 million in 2010 to a staggering $231 million in 2011. ViSalus was featured in an exclusive insert in the Wall Street Journal called "Why Now Is Prime Time for Direct Selling".
The MLM Superheroes are an elite team of online and offline marketers that travel the world, freeing people from Corporate bondage; helping to open up a doorway to a life of complete and total freedom. The team is headed up by international entrepreneur Darren Little - who launched Pamela Anderson's career in 1989 with Labatt's Brewing Company. Little also launched Bingo.com, Blackjack.com, Ableauctions.com and a host of other products and services.
"What makes ViSalus so unique is that they have created a lifestyle movement" says Little. "Their product is a 90 Day Challenge and that Challenge is different for everyone. ViSalus focuses on people's lifestyle goals and then matches a kit that is designed to help them achieve those goals. So instead of selling products, the company sells kits. This is something that is a complete trendsetter in the industry. Couple that with the "Refer 3 and it's Free" product incentive and an exciting BMW car program and ViSalus has created an industry phenomenon like no one has ever seen before in the North American market".
For more information on how to benefit from partnering with Darren Little and The MLM Superheroes as Independent Promoters of ViSalus and the Body by Vi 90-Day Challenge on their global marketing campaign contact:
Darren Little
MLM Superhero
Phone: 604-771-1901
Email: Darren(at)DarrenLittle(dot)com
http://MLMSuperheroes.com