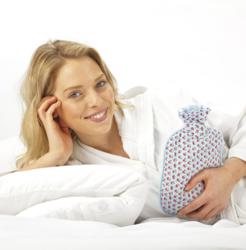 The Hot Pak® is perfect for easing any nagging aches and pains.
(PRWEB UK) 1 July 2012
The Intelex Group based in Northamptonshire have a track record of launching award winning, innovative new products that continue to grow the heatable product category world-wide. It all started in 1995 with their revolutionary new Hot Pak®, the first ever fully microwavable herbal heat pack to be sold in Europe. Since then Intelex have continued to launch dozens of popular and successful heatable products and soft toys. Winners of two HGCA awards and the British American award for Innovation, combined with their impeccable safety standards in the heatable product industry, Intelex are now delighted to bring to market the new Hot Pak® Body Range of fully heatable boots, slippers, bottles and heat packs, in stunning vintage floral designs.
The stylish new Hot Pak® Body Range is aimed at appealing to women aged 25 and above. Retailing from £16.95 for the Slippers, £19.95 for the Boots, £14.95 for the Hot Pak® Bottle and £11.95 for the Hot Pak® Heat Pack, the accessible price points will make the products appealing as gifts for Mums, Nans, wives and girlfriends at Christmas, birthdays and Mother's Day. The products will be suitable in many retail channels from independent retailers, department stores, garden centres, pharmacies and gift shops, both high street and online.
The beauty of Hot Pak® Body Range lies in the convenience of being fully microwavable. In only two minutes gently warmed in the microwave, the products are ready to warm and ease any nagging aches and pains. For a few moments of foot soothing relaxation, slipping on a pair of the luxuriously soft Hot Pak® Boots whilst watching your favourite program with a cup of tea can become one of lives everyday pleasures. No more waiting for the kettle to boil and the risks of spilling boiling water. The Hot Pak® bottle is a safe, convenient solution to the hot water bottle.
Whilst the products are functional, they also look beautiful. The floral pattern is very on-trend with a classic vintage theme and is available in three gorgeous colours; pink, blue and green. The Hot Pak® Body Range is available to pre-order from Intelex right now. Please phone Intelex on 01933 679 777 or email on sales(at)intelex.co.uk or register online now to enjoy the benefits of an Intelex trade account click here.
The Intelex Group are based in Wellingborough, Northamptonshire and have been established since 1995. The objective of their business was to commercialise a convenient and innovative way to relieve everyday aches and pains, through the creation of the Hot Pak®, the first ever fully microwavable herbal heat pack to be sold in Europe, which remains a popular product to this day.
Intelex's experience and expertise in this highly specialised industry is of paramount importance. All of the Intelex Group's products exceed the relevant safety standards, including the British safety standard BS8433:2004, the European toy safety standard EN71-1/2/3 and the American toy safety standard ASTM-f963.
Supplying over 8,000 retailers, including Argos, Sainsburys, Lloyds Pharmacy and Amazon to name a few, Intelex also supply their product into 44 countries from their warehouses and offices in Hong Kong, USA, Australia and England.