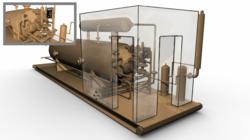 By offering upstream production equipment, we hope to put our customers in a better position to take advantage of our portable pollution preventing/revenue generating vapor recovery technologies.
Houston, TX (PRWEB) July 09, 2012
Since the late 1990's Engineered Concepts LLC of Farmington, New Mexico, has specialized in the development of oil and gas vapor recovery and emission free natural gas dehydration technologies. Recently the company directors decided to expand their product line to include new upstream production equipment as well as some midstream specialty items such as pig launchers, receivers and slug containment systems.
"We will continue to provide a range of vapor recovery options and emission free natural gas dehydration process equipment. The addition of process equipment upstream and downstream to our vapor recovery and dehydration technologies will enhance our abilities to provide oil and gas operators a more comprehensive and cost effective solution on the well pad." states Roger Miller, president of Engineered Concepts, "In shale play wells in particular, vapor recovery and other emission controlling systems are a consideration after the well has been producing for some time. During this peak very profitable production time most vapors are flared or lost by venting to the atmosphere. By offering the initial production equipment, we hope to put our customers in a better position to take advantage of our pollution preventing/revenue generating vapor recovery technologies."
Engineered Concepts has developed several vapor recovery options that address geographic location, production content and other factors. The Engineered Concepts vapor recovery systems address oxygen ingress issues and numerous other problems that have plagued vapor recovery methods for decades. Miller explains, "We can provide a vapor recovery solution for just about any production scenario including the presence of H2S. Our fabrication facility in Claremore, Oklahoma is certified to fabricate to ASME hazardous service specifications. We recently completed a large hazardous service vapor recovery installation in Central Texas where the presence and levels of H2S were lethal. We have VRUs (vapor recovery units) and stabilizers in operation throughout the United States in a wide range of applications and geographic regions.These systems are skid mounted and can be moved from site to site."
Although the price of natural gas has dropped significantly over the past year, operators have the choice of flaring and the penalties associated with burning the natural gas or recovering the vapors at a profit. The payout for many vapor recovery systems is not as fast as a few years ago however; regardless of the price, flaring still burns profits and creates pollution. With the recent Supreme Court ruling in favor of the EPA against Texas and 14 other states, exploration and production companies may be required to change their view as to when vapor recovery and other pollution prevention measures are implemented. Most shale play producers have not warmed up to portable vapor recovery systems often because there is no infrastructure in place to capture and sell the gas. Where there is infrastructure many producers are skeptical or just not aware that portable vapor recovery is very viable and cost effective when executed correctly.
The founders of Engineered Concepts originally began operations as the Olman Heath Company in 1959 in Farmington New Mexico. Weatherford International purchased Olman Heath in the 1980s. The founders regrouped in 2000 forming Engineered Concepts LLC and began developing high efficiency emission reducing oil and gas production technologies. Engineered Concepts has experienced exponential growth offering oil and gas production equipment from the wellhead to the pipeline while specializing in a wide range of vapor recovery and emission reducing techniques. For more information visit: http://www.engineeredconcepts.com