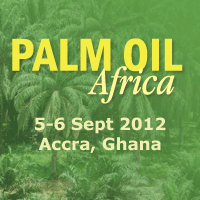 Hon. Yaw Effah-Baafi, Deputy Minister, Ministry of Food & Agriculture, Ghana, will grace the event with a keynote address on Investment Opportunities in Palm Oil & Rubber Plantations in Ghana
Accra, Africa (PRWEB) July 10, 2012
Palm Oil Africa on 05-06 September in Accra will see key ministry officials speaking on the investment opportunities in palm oil plantations in Africa. Hon. Yaw Effah-Baafi, Deputy Minister, Ministry of Food & Agriculture, Ghana, will grace the event with a keynote address on Investment Opportunities in Palm Oil & Rubber Plantations in Ghana. This is followed by another ministerial speech from Hon. Dr. Florence Chenoweth, Minister, Ministry of Agriculture of Liberia speaking on "Liberia: Role of Oil Palm Investments and Investors in Rural Prosperity Building and Food Security".
Palm Oil Africa is being held alongside a 1.5 days RubberPLANT Africa conference that opens 04 September, and continues on with a common half-day session cum the opening day of Palm Oil Africa on 05 September. These 2 events are specially structured to explore, discover and discuss the investment opportunities plus the technical and management aspects of rubber and palm oil plantation in Africa.
Themed "Sustainable Oil Palm Development, Agronomic Specificities & Yield Potential in West Africa", the conference will be an assembly of key ministry officials and major industry players sharing their expertise on agri-investments, insight on sustainable development of palm oil, analysis of genetic improvement of oil palm, crop-improvement research, high-yielding varieties, disease-resistant materials, and more.
Among the officials and representatives from the private sector slated to participate as speakers include:
Mr. Stephen Kumadoh, Principal Evaluator
Lands Commission
Dr George Aboagye, CEO,
Ghana Investment Promotion Council (GIPC)
Mr. Mouhamadou Niang, Division Manager, Industries and Services Division, Private Sector Dept
African Development Bank
Kweku Bedu Addo, CEO of Standchart Ghana
Standard Chartered Bank Ghana
Senior Representative
IFC/MIGA
Supramaniam R. Ramasamy, Global Head of Plantation
Olam International Limited
David Rothschild, Director,
Golden Veroleum Ltd
Delilah Rothenberg,
Herakles Farms / Herakles Capital
Patrick Caulker,
Sierra Leone Investment & Export Promotion Agency ( SLIEPA )
Eric Anang, General Manager - norplam ghana
Norpalm Ghana Ltd / Norpalm AS
Abraham Baffoe, Associate Director,
Proforest
Mr. Doug Hawkins, Partner
Hardman & Co
David Ogg,
Peterson Consultancy
Marc Hardy, Principal Consultant
Coastal & Environmental Services
Michel Cazemajor. Breeder,
PalmElit
Dr George Okyere-Boateng Breeder
OPRI
Dr Clement Ataga,
NIFOR
Dr Claude Jannot, Agronomist,
CIRAD
Dr. YO Tiemoko, Director General,
CNRA Cote d'Ivoire
For more information on other topics at the conference, please visit the Palm Oil Africa website
For queries and registration matters, contact Ms. Hafizah at Tel: 65 6346 9218