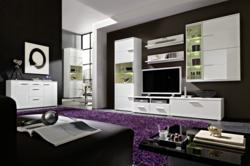 (PRWEB UK) 2 July 2012
FurnitureInFashion is pleased to announce that prominent names in the field of furniture interior designing including Wallstreet Interiors, Kerry Jane Interiours and Intuitiuon Interiors have now joined hands with FurnitureInFashion in order to furnish and décor the houses and offices of their clienteles with the modern furniture available at FurnitureInFashion.
FurnitureInFashion is helping interior designers boost their business by not only providing impeccable and modern home products but also interior designs, accessories and other unique ideas for decorating adventures and inspiration. This has attracted large number of interior designers to do business with FurnitureInFashion and boost their interior designing business. One of the designers said."It's exciting.
FurnitureInFashion has lots of creative options for furnishing and decorating people's home and even office environments. I enjoy the idea of figuring out how to combine the different unique items at FurnitureInFashion's catalogue to enhance the space and bring a modern home look".
The company is helping the interior designers by providing them with innovative, cutting edge and high tech designs in the furniture products. With the increase in demand of the modern home living, the interior designers have found almost everything in FurnitureInFashion's store. The owner of FurnitureInFashion said," Interior designers such as Wallstreet, Kerry Jane, Intuitiuon and many others require furniture and other home accessories for their clients and businesses. These clienteles mostly demand innovative and unique ideas for furnishing their homes. We follow the demands as described by these interior designers to create the crucial differentiating points in our furniture that allow their projects to become a success and enduring example of innovative and truly great designs." The impeccable quality along with unique design concepts makes FurnitureInFashion an ideal one stop shop for interior designers.
Interior designers sometimes hit their creative roadblock. To get those wheels back in motion, FurnitureInFashion is maintaining a blog comprising of home living tips and creative designer concepts. The blog offers an interesting experience of shapes, style and colors all at one place. The posts are beautifully highlighted with creative and artistic photos of living rooms, bedrooms, bathrooms and kitchens. The ideas in these posts have inspired many interior designers. Asad Shamim, the owner of FurnitureInFashion, believes in working with mutual consent and flexibility. He said," We not only follow our plan but welcome the input from the interior designers that work with us. We develop products and interior design concepts with open doors for our interior designers to modify or even completely redesign the product or design concepts. Suggestions are always welcomed."
The company follows "Inspire the world one room at a time" goal which has been successfully displayed on the blog with frequent posts and stunning images. Interior designers have been able to find unique, wacky and off beat design concepts on this blog. The team behind this blog is diverse with excellent bloggers, designers and other creative types. Each one of the articles is packed with links, pictures, descriptions and every other relevant information to guide the interior designers in incorporating these ideas into their style canvass. Asad Shamim while appreciating his interior designers said, "FurnitureInFashion has over 300 interior designers of immense caliber. In addition to this, we also provide full cycle project management including on-time delivery, on brief and in budget." The interior designers have been able to boost their business by using the room settings offered by FurnitureInFashion.
The room settings offered by the company are complete home solutions.
FurnitureInFashion updates its catalogue and blog frequently. This has helped the interior designers to cope up with latest trends and home living tips and concepts. FurnitureInFashion is providing a comprehensive combination of home products and interior design service as well. The experienced team of interior designers working with FurnitureInFashion place absolute importance on understanding and delivering the particular wishes and needs of their clients.
For more information please visit: http://www.furnitureinfashion.net