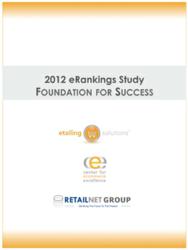 eRankings was developed to be an essential foundation from both the Manufacurers and Etailiers point of view for how to win in ecommerce.
Westport, CT (PRWEB) July 09, 2012
CPG ecommerce is among the fastest growing industries, but is very much in its infancy. The roadmap for success is being charted today.
The first annual benchmarking survey exclusive to the ecommerce industry was conducted by leading ecommerce consultancy Etailing Solutions and by leading insights and advisory firm RetailNet Group, and sheds light on this fast-growing opportunity, with specific emphasis on these 5 important areas for collaboration between etailers and manufacturers: Strategic Planning, Category Management, Organizational Readiness, Performance Management and Insight Development.
The trade study titled "eRankings 2012" designates not only who is best-in-class, but also helps identify ecommerce industry best practices and key challenges.
eRankings 2012 is a key research study that asks manufacturers to rate etailers and etailers to rate manufacturers. The study aims to help organizations identify valuable core competencies that will help manufacturers and etailers improve processes, work better together and grow their business. Some of the questions asked to etailers in the survey include:
*Which manufacturers, categories and brands are most important to their customers?
*Who is best resourced? Who has the best grasp of logistics?
*What are their most important ecommerce objectives?
Questions asked to Manufacturers include:
*Which etailers are most insights focused?
*Who is the most strategic? Who is the best to partner with to develop best practices?
*What are the biggest challenges and opportunities in working with etailers?
The study also probes many other areas including ecommerce objectives, challenges and shopper needs.
The eRankings Report can be purchased online at the Center of Ecommerce Excellence: http://www.ceeportal.com or by contacting Jason Katz, EVP etailing solutions at 203.682.4176, jason(dot)katz(at)etailingsolutions(dot)com
About etailing solutions
Etailing Solutions is an integrated online sales consultancy providing consumer goods companies with a distinctive suite of services, including data services/insights, strategy development, sales support and digital execution. The company combines a deep understanding of online shoppers, brands and the digital sales route to market to offer clients solutions that drive faster growth and profitability through online sales. To learn more, contact Jason Katz, EVP etailing solutions at 203.682.4176 or visit http://www.etailing-solutions.com
About RNG
RNG is the leading insight and advisory firm with specialized expertise in forward-thinking guidance pertaining to retail growth. RNG's consultants are experts in activating leading-edge thinking about current and future states of retail markets and retailers, the growth strategies retailers will pursue, and the capabilities and competencies that enable retailers and suppliers to lead. To learn more, contact Tim O'Connor, vice president at 203. 664.1008 or visit http://www.retailnetgroup.com
About CEE
The Center for Ecommerce Excellence was founded to be a catalyst for global learnings, collaboration and best-practice development for the consumer goods ecommerce industry to drive sustainable growth. Members enjoy access to our insights portal featuring proprietary research, the latest industry trends and best practices and opportunities to interact with other industry professionals across the ecommerce ecosystem through conferences, webinars, share groups and steering committees. To learn more, contact Evelyn Warren, Executive Director of Membership at ewarren(at)ceeportal(dot)com or visit http://ceeportal.com