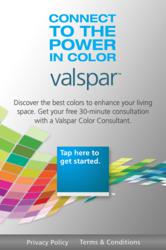 "The Valspar ConnectLIVE experience breaks new ground in how a brand can connect with their consumers via mobile marketing.
Westport, CT (PRWEB) July 02, 2012
Merging the popularity of apps with the latest in interactive video technology, marketing services agency CatapultRPM has helped client Valspar Paint® develop and launch their ConnectLIVE app, which offers consumers live paint color consultations with a color expert, all from the comfort of their own home. Free downloads of ConnectLIVE are available for a limited time from the App Store for iOS devices iPad 2, iPad 3 and iPhone 4S.
ConnectLIVE uses leading video technology to create a virtual one-on-one appointment between Do-It-Yourself painters and a Valspar color consultant to create a customized color schemes for their home design projects. During a ConnectLIVE appointment, the Valspar color consultant views the participant's interior living space and engages in conversation with the consumer about their personal style and design aesthetic. The consultant recommends a personalized Valspar color palette for any paintable surfaces in the room including walls, ceilings, trim and fireplaces. The ConnectLIVE app allows users to preview a digital color chip of the recommended Valspar paint colors on screen. After the 30-minute appointment, participants receive a summary of all paint colors from their expert-curated palette.
"The Valspar ConnectLIVE experience breaks new ground in how a brand can connect with their consumers," said Jason Rogers, Executive Vice President of Digital at CatapultRPM. "Starting with the insight that finding the perfect color for their project can be a challenge, Valspar delivers an innovative solution that invites color experts into the home and delivers personalized results that eliminate the typical anxiety that comes with the color selection process."
CatapultRPM has been Valspar's agency partner in defining and developing the ConnectLIVE application which rolls out through the iTunes App store this month.
"Valspar is committed to innovation and making it easy for people to incorporate the right colors into their home," said John Anton, Vice President, Valspar Consumer Marketing. "The Valspar ConnectLIVE app provides professional guidance on paint color selection that is tailored to each person's space and personal style. This personal consultation tool helps people connect virtually to the power in color, choosing from among thousands of colors to easily transform their homes."
Valspar ConnectLIVE color consultations are available by appointment and only apply for interior rooms. During the scheduled appointment, participants must be in the room that they would like the color consultant to preview, and WiFi access is required. Consultations are scheduled on a first come, first serve basis through the Valspar ConnectLIVE app.
More information about the Valspar ConnectLIVE color consultant app is available at:
https://www.facebook.com/video/video.php?v=349332061780327. To download the ConnectLIVE color consultant app, visit the App Store and follow the prompted directions at: http://itunes.apple.com/us/app/valspar-connectlive/id493640626?mt=812
About The Valspar Corporation
The Valspar Corporation is a global leader in the paint and coatings industry. Since 1806, Valspar has been dedicated to bringing customers the latest innovations, the finest quality and the best customer service in the coatings industry.
About CatapultRPM
CatapultRPM is the behavior-based marketing services agency that delivers accelerated business growth by connecting today's "always on" shoppers to brands, and inspiring purchase whenever and however they choose to buy. The agency delivers true channel-agnostic solutions that are brand savvy, retailer smart, and digitally enabled. CatapultRPM creates relevant connections between brands and people to inspire purchase through insights and analytics expertise, emotionally-charged creative, a true omni-channel marketing approach, deep retailer knowledge and the latest digital tools and expertise.
CatapultRPM is headquartered in Westport, CT and leverages the expertise of more than 300 employees across 10 offices in major retailer geographies including Minneapolis, Bentonville, Chicago, Cincinnati, Nashville, Pleasanton, Los Angeles, Phoenix and Tampa. CatapultRPM is a subsidiary of Hyper Marketing Incorporated Network (HMI), the largest independent marketing services network in North America.
Client include: Capital One, Chiquita Brands LLC, ConAgra Foods, Crayola, Gerber, Hyundai Capital America, Kellogg's, Mars Chocolate US, Mars Food US, Mars Petcare US, Nestlé Health Science, Nice/Pak GrimeBoss, Nutro/Greenies, Valspar and WWE. Please visit us at: http://www.catapultrpm.com
Above, below or through the line? With CatpultRPM, there is no line.