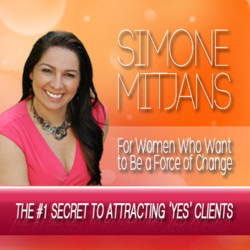 I have learned that one size doesn't fit all when it comes to marketing your business
Clark, NJ (PRWEB) July 10, 2012
Simone Mitjans has a new website dedicated to the success of business owners and women entrepreneurs. As a marketing and mindset coach, Simone coaches women who own their own business how to market themselves in a way that fits their unique energy signature. Visitors to her newly redesigned site will immediately notice the eye-popping color palette she has chosen specifically to give these women the energy they need to bring in more business, close more sales and be much happier doing it.
"Many of my clients come to me frustrated that they have been unable to grow their business," says Simone, who is also a speaker in the B.I.G Network for women. "Frustration, as an emotion, is completely draining and doesn't allow for any productivity."
Immediately upon landing on the site the vibrant tangerine header with shades of citrus introduces the vibrant brand Simone has spent nearly 7 years building. The new website features a hot pink and deep rose sidebar with links to resources such as Simone's blog and free business tools. Simone also understands the need for clear calls to action, which are statements at the top of her site inviting visitors to contact her.
"I've learned that one size doesn't fit all when it comes to marketing your business," says Simone. "Now I'm helping my clients to discover their unique way to stand out in the marketplace and feel totally confident."
As a mindset coach, Simone employs a one-of-a -kind system called "Your Energy Signature" or Y.E.S. to help women entrepreneurs attract clients quickly and in an authentic way. Website visitors can claim their Free Audio CD "The #1 Secret to Attracting Yes Clients – How to Use Your Unique Energy Signature to Attract All the Clients You Need" located on the upper-right hand corner of every page.
About Simone Mitjans
Simone Mitjans is a marketing and mindset coach who helps women entrepreneurs to grow their businesses. Her clients have found success because she creatively integrates practical marketing strategies and mindset principles into her mentoring and coaching programs. One of those programs is called Your Energy Signature reading, or Y.E.S., which she does on an individual basis. Her mission is to empower women to be a force of change on the planet by helping them to follow their dreams and build a meaningful and profitable business. Connect with her here to find out how to grow your business, as well as feel enthusiastic and energized about your life.