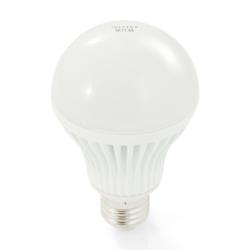 Customers can easily swap bulbs out without having to go through an annoying linking process
Brooklyn, NY (PRWEB) July 06, 2012
INSTEON, manufacturers of an award-winning remote control product line, one of the most reliable home-automation technology, and products ranging from irrigation controllers to lamp dimmers and thermostats launched the world's first remote-controllable LED light bulb. This 60 W bulb that is priced at $29.99 can be dimmed via a remote control available for Android, iPhone, and iPad iOS. The LED Bulb can be linked to a number of controllers such as door and motion sensors, a handheld remote, keypads, or even a smartphone. The same technology can also be used to turn on or turn off multiple light bulbs at the same time by linking them to a single controller.
Irvine, California based INSTEON is renowned for its innovative dual-band and simulcast mesh technology that delivers the fastest wireless device communication in the industry. The growing list of devices such as the remote-controllable LED light bulb also comes with press-and-hold, double-tap, and intuitive tap controls and the settings (a wide range of brightness levels and smooth dimming transitions) can be customized to go with any ambiance.
A lighting expert at BulbAmerica.com says, "Growing a home network is extremely easy using this built-in expandable, brilliant, and most important reliable remote control system. Customers can easily swap bulbs out without having to go through an annoying linking process." The INSTEON network or any nearby device instantly recognizes the INSTEON LED bulb's unique network address that is printed on the bulb itself as soon as the bulb is screwed in. The SmartLinc Hub turns an iOS or Android tablet or smartphone into an entire INSTEON network or a fully functional remote control of the bulb. INSTEON's patented dual-band communication technology that has been incorporated in this LED light bulbs enables it to act as a network signal repeater that sends signals over both a home's existing power line and radio frequencies (RF).
BulbAmerica is the largest on-line provider of quality lighting fixtures and light bulbs in the United States. They have been a part of the industry for close to ten years now. Their exhaustive inventory of quality products includes, but is not limited to fluorescent, halogen, LED, CFL,incandescent bulbs, projector lamps, and various LED lighting options. For more information about these high efficiency light bulbs that they offer at BulbAmerica, visit http://www.bulbamerica.com or call 1-877-650-0775.