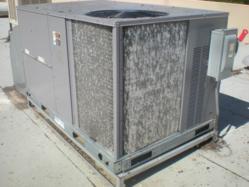 Bensenville, IL (PRWEB) July 11, 2012
2011 was an unprecedented year for storms and 2012 is starting out just as ferocious. In 2011, the insurance industry paid out billions of dollars to repair structures damaged by wind and hail. While the industry spends thousands of dollars to train their staff to correctly evaluate roof and siding damage, HVAC equipment is largely ignored. While there are several reasons for this the, most obvious is how complex the HVAC systems are.
There is significant time and money spent training adjusters to ensure they know how to survey the entire roof and estimate the repair costs. They are trained to differentiate hail damage from other damage such as wear and tear. The training encompasses the different materials the roofs are fabricated from and how hail damages each type of material. All this is done to ensure the policyholder is correctly indemnified while at the same time ensuring the insurance company pays exactly what is owed. Not a penny more and not a penny less.
As strange as it may seem, little to no training goes into the most expensive equipment on that roof, the HVAC systems. The reason for this is quite simple; it would require that every adjuster be trained as an HVAC technician capable of determining the extent of damage. The adjusters would have to diagnose if the equipment can be repaired and once repaired to ensure it is in proper running order. This would require pressure and amp draw testing at the very least. It would also require the adjuster to carry HVAC testing equipment along with them. As a result this unrealistic level of training the insurance industry, for the most part, has left it up to HVAC contractors to tell them what is wrong. Worse yet, the contractor is also responsible to tell the insurance adjuster what needs to be done to correct the damage. This is a little like leaving the fox in charge of the hen house.
As a result of this practice, the insurance industry unnecessarily pays hundreds of millions of dollars to replace HVAC equipment. The HVAC industry is well aware of the reliance that insurance companies have put on them and more often than not the insurance industry has been taken advantage of. Adjusters are told that entire HVAC systems must be replaced even though the existing system can be repaired. They are also told that more equipment than necessary must be replaced. The HVAC contractor will talk about laws being passed and newer refrigerants being introduced to further confuse the adjuster. These practices have lead to an even greater reliance on the HVAC industry.
Today, there is company that supports the insurance industry with objective data, inspections and accurate pricing on HVAC equipment. This company allows the insurance adjuster to pay the amount actually owed. Don Marx CIS Commercial Insurance Services 708-560-1980 cisclaims.com