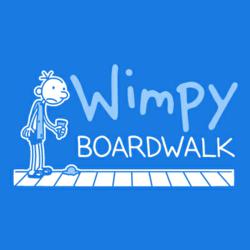 It's our good fortune to be front-row witness to the evolution of Jeff Kinney's work as it rightfully gains astounding popularity across the world.
Boston, Mass. (PRWEB) July 03, 2012
Poptropicans can join everybody's favorite "Wimpy Kid," Greg Heffley, and his family and friends on a beach vacation with today's launch of "Wimpy Boardwalk," the 28th Island on the popular virtual world for kids. With Early Access, Poptropica Members can experience "Wimpy Kid" like they have never seen it before – in full color – while non-members will have access to a limited portion of the Island until its public launch on July 19, 2012. Members will receive a Wimpy Boardwalk gear pack, which includes a Beachgoer costume, Heat Wave power and Beach Umbrella. The Beachgoer costume will only be available during Early Access.
On Wimpy Boardwalk, it is summertime, but the living isn't easy for a "Wimpy Kid." When Greg and his buddy, Rowley, visit the boardwalk for a relaxing beach vacation, they run afoul of thieving teens, ravenous seagulls and crooked carnies. Poptropicans will face the challenge of helping Greg clean up his mess before the vacation ends. This summertime adventure features the entertaining cast of "Wimpy Kid" characters, carnival rides and challenging arcade games.
"Poptropica is absolutely thrilled to bring the Wimpy world to kids in full color," said Jess M. Brallier, publisher of Poptropica. "It's our good fortune to be front-row witness to the evolution of Jeff Kinney's work as it rightfully gains astounding popularity across the world. It's a fun ride, and Wimpy Boardwalk in full color is like putting the gas pedal to the floor. This is going to be a summery blast!"
Poptropica Members will also have the chance to help Greg with one more task on a special "Wimpy Boardwalk" bonus quest. A devious gamer has left an embarrassing message about Greg on a high-score list in the arcade. Poptropica Members face the challenge of mastering the game, saving Greg's dignity and becoming the boardwalk champion. Parents can buy Poptropica Memberships for their kids in one-, three- or six-month increments.
The launch of "Wimpy Boardwalk" on Poptropica brings an all new storyline to the Wimpy Kid world. In March 2011, the site introduced "Wimpy Wonderland," a chance for Poptropicans go to on a snow-day adventure with Greg and his friends.
With its third feature film releasing this August, "Wimpy Kid" has been read online by more than 80 million children, and the print version published by Amulet, an imprint of Harry N. Abrams Publishing, has held multiple positions on "The New York Times Book Review Children's Best Sellers List." Poptropica was created by Jeff Kinney, who is also the author of the "Diary of a Wimpy Kid" series.
Named as one of TIME magazine's Top 50 websites of 2011, Poptropica has been visited by more than 235 million kids worldwide since its launch in 2007. More than 31 million kids from across the globe have connected safely and securely online with the virtual world's social networking offering, Friends. Players come from more than 130 different countries and have their web browsers set to more than 100 different languages, ranging from Spanish and Sanskrit to Vietnamese and Croatian. All Poptropica Islands are free to play, and each represents a unique theme and challenge.
Kids can stay up to date on news about upcoming new Islands and other exciting developments in the world of Poptropica on the official blog at http://blog.poptropica.com/.
About Poptropica (http://www.poptropica.com)
Poptropica is a virtual world in which kids explore and play in complete safety. Every month, millions of kids from around the world are entertained and informed by Poptropica's engaging quests, stories and games.
Kids create a "Poptropican" character to travel the many Islands of Poptropica and use gaming literacy to enjoy a narrative that is often rooted in factual history. Problem-solving skills are honed as kids discover and solve mysteries unique to each Island.
There are always new areas to explore in this ever-expanding world where kids can collect objects, read digital books and comics, watch movies, and compete in head-to-head competition. Parents can always trust that their children are playing – and learning – in a safe online environment.
Poptropica is published by Family Education Network, a part of Pearson, the education, services and technology company. Pearson's other primary operations include the Financial Times Group and the Penguin Group.