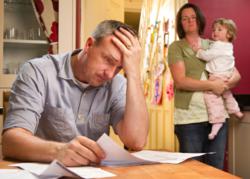 Many American workers remain uninsured and underinsured when it comes to disability insurance.
Riverside, CA (PRWEB) July 02, 2012
In a phone interview today, Matthew Pardee, an AFLAC Sales Associate, shined a spotlight on alarming recent reports which indicate that underinsurance—the lack of adequate asset coverage among American workers—is a growing and hidden threat to American workers and their families. "Many people neglect to consider how they'll cover out-of-pocket medical expenses (co-payments and deductibles) and their everyday living expenses (mortgage, rent, utilities, groceries, car payments) when they lose income due to an injury or illness." Pardee said.
Disability Facts:

33 percent of workers will become disabled for at least six month.
Many workers feel more strongly about insuring their homes and cars than insuring their ability to provide for their families after a death or disabling injury.
Approximately 100 million Americans aren't protected by private disability insurance, and four in 10 U.S. adults have no life insurance.
Most workers don't realize that most injuries and organic dysfunctions do not qualify as disabilities under the federal Social Security Disability Insurance program. Or that almost 70 percent of first-time applicants are denied, and those who do qualify typically wait an average of two years before receiving their first payment.
91 percent of disabilities are caused by common illnesses or health conditions such as cancer, heart attacks, and child birth and are typically not covered by workers' compensation.
Financial Facts:

According to a recent Harvard study, sixty percent of personal bankruptcies occur as a result of medical bills. Of these, 77% had major medical insurance (including employer-paid policies).
More than 60 percent of American workers live paycheck to paycheck.
Half of all households say they couldn't raise $2,000 within a month if they needed to.
Pardee said, "Usually, employees rely on their employers to do the research and decide what's best when it comes to insuring and protecting them." He encourages employers to play a larger role in their employees' continued viability and financial security by giving employees access to insurance plans that will patch the holes that exist in their current coverage. "Many insurance companies offer voluntary life and disability insurance plans that work in conjunction with major medical insurance. A few great attributes of these plans are; they are affordable, they have no direct cost to the business, and they provide workers with a strong financial safety net." Pardee said.
"Employees are the bedrock of employers' success; without them, windows would be shuttered, doors would be bolted, and cash registers would be silent. When we consider employees' true value—not just to employers but to their own dependents, too—getting more complete coverage for them seems to me to be a no-brainer. Companies that take care of their own will never have to look very hard for willing and eager employees." Pardee said.