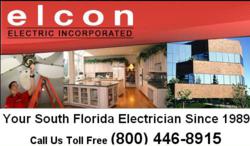 Our service fully appreciates the specific requirements for each individual customer. We know that each home is different and we are dedicated to providing the most appropriate solution for each client
West Palm Beach, FL (PRWEB) July 02, 2012
Power outages are a common occurrence in Florida, and especially so during hurricane season. The loss of power can mean a stressful time for the homeowner, with feelings of isolation and vulnerability being common throughout this period. To make sure that homes are kept fully powered during stormy weather, Elcon Electric is able to install a generator in West Palm Beach FL.
"Generator installation in West Palm Beach FL is essential to maintain the power in a home during hurricane season. It is not just the lights that go out during a power cut, but all forms of communication, air conditioning and food cooling devices. By installing a generator in your home you are able to fully prepare for this occasion," said a company spokesperson.
Elcon Electric currently has a "Hurricane Season Special" on offer from their website. This includes the installation of the Symphony II Power Management System, which comes with 4 year warranty. The generator provides a cost-effective solution for medium sized homes and installation comes with free connection to a propane tank or natural gas supply.
Homeowners are also encouraged to contact Elcon Electric directly to discuss their specific requirements.
"Our service fully appreciates the specific requirements for each individual customer. We know that each home is different and we are dedicated to providing the most appropriate solution for each client," said Elcon Electric.
Homeowners who want to install a generator in West Palm Beach FL can find out more information via the official Elcon Electric website at http://www.elconelectric.com
About Elcon Electric Incorporated:
Elcon Electric Incorporated has been serving the community in West Palm Beach FL since 1989 with their expertise in electronic services and generator installation. The company has been recognized with the sC.A.S.F. Craftsmanship Award, the Green Building of America Award, and a number of other awards and recognitions.