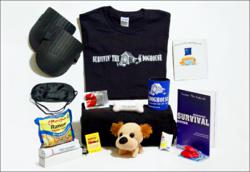 Survivin' The Doghouse LLC guarantees those lonely nights in the doghouse will be much more tolerable and shorter-lived
Willow Grove PA. (PRWEB) July 18, 2012
Every man knows what it means to be "in the doghouse"… cold dinners, lonely nights, hard couches, and a whole lot of cold shoulders. Realizing the universality of this experience, two Pennsylvania friends decided to develop an innovative and fun new product The Official Doghouse Survival Kit for Men.
Calling on over 20 years of relationship experience, creators Earl McCall and Noel Wilkins have created a unique and hilarious one-of-a-kind gift for the man who just can't seem to stay out of the doghouse. The Official Doghouse Survival Kit for Men guarantees those lonely nights in the doghouse will be much more tolerable… and shorter-lived, too! The Doghouse Survival Kit also contains amusing and constructive tips that help men understand why they're in the doghouse and how they can stay out of it in the future.
Even though their first impulse was to make their buddies laugh and create a bachelor gift, Earl and Noel quickly realized that the product would appeal to many people. Whether an in-law, spouse, friend or concerned neighbor, the Official Surviving the Doghouse Kit for Men is clean and family-friendly fun, making it the perfect gift idea for any occasion, birthdays, Fathers Day, bachelor parties, weddings and for any individual with a man's best interests in mind. The Official Surviving The Doghouse Kit is a must have for any man cave. The kit contains over 11 hilarious as well as functional items, including:
A fully functional blanket for covering your sorry butt during those cold couch nights
A soft plush eye mask that guarantees darkness for relaxation no matter what time of day and doubles as a cold stare blocker from you know who
A cuddle buddy stuffed dog companion— the only thing you'll be holding close for the next few nights
A stress bone so you can still smile and grin while in the doghouse
A flashlight for reading your survival guide or safely navigating the doghouse in the dark when nature calls
A set of knee pads for added knee protection as you continually beg for forgiveness to return to a normal life
A pair of wax lips to keep yours from chaffing as you kiss your way out of the doghouse
Ear plugs when you can no longer bear the chastisements from your loved one
While developing the product, creators Earl and Noel realized they had some pretty good advice to dispense that could actually take the product beyond the status of "joke" gift. They decided to create a Doghouse Survival Guide and feature it as the highlight of the Official Doghouse Survival Kit for Men.
Packed with 30 real life scenarios that any man can relate to, the guide gets into all the ins and outs of the doghouse. Couples will be laughing and learning as they easily relate to the zany and candid scenarios about how a man ends up in the doghouse… and how he can try staying out of it for good.
Survivin' The Doghouse LLC is a company dedicated to bringing humorous as well as functional innovative new products to market.The Official Surviving the Doghouse Kit for Men is the first of many unique products to be released by Survivin' The Doghouse. The company features a line of tee shirts and apology cards with many more products in the works. The company is offering a special pre-release purchase, which will include a 10% discount and free shipping. The company was founded by Earl and Noel on March 13 2012. Survivin' The Doghouse believes that while there is humor associated with The Official Doghouse Survival Kit for Men, relationships also have serious side. Earl and Noel decided to demonstrate their commitment to creating and preserving healthy relationships by donating a percentage of sales to charities that prevent domestic violence.
To find out more about the company and its new products, visit, http://www.survivinthedoghouse.com, or 'like' them on their Facebook page.