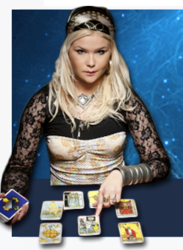 Sellers who express themselves and provide unique, fun value will prosper...
(PRWEB) July 02, 2012
PsychicTarot.us has announced the acceptance of online psychic readers to begin selling online readings. The website is a new online marketplace for tarot readings, psychic predictions, horoscopes and more.
PsychicTarot.us has opened availability to professional psychic providers to list their services and begin earning money online.
The website is the beginning of a new metaphysical community, so providers are invited to create services in disciplines including:

Astrology
Hypnosis
Horoscopes
Love Predictions
Reiki
Providers can use video in their offers, and even has a specialized video category for those who wish to take advantage of the powerful medium. According to the site, the addition of a video component to an offer increases interest, and revenue, and provides readers a way to interact with greater connection to clients.
The site is moderated so that services are of a consistent quality, and a number of additional benefit laden features are in the works to help offer creators be more successful.
Key Facts:

Offers for Services are Sold for $5, $15, or $20
Community Driven Focus
Earn Money Doing What You Love
Completely Free To Join
In addition to the opportunity to earn extra income, becoming an offer provider on PsychicTarot.us can be enjoyable and fun. Many of the best providers are involved in helping build the community of like minded folks.
"The sellers who express themselves while creating services that are unique, fun, and of great value have an excellent opportunity to do well," said Katia Shayk, site representative.
"Offer providers on PsychicTarot.us are the lifeblood of the company, and their unique and inspired services are the things that drive customers and new users to the site," added Ms. Shayk.
About PsychicTarot.us:
People interested in the metaphysical or spiritual ranging from tarot, astrology, psychic insight and beyond can begin earning money, listing offers for their talents online. The metaphysical talent marketplace is intended to let lose your creativity while earning extra money helping, entertaining and showcasing your talent. Find out what you are capable of today by visiting: http://www.psychictarot.us/start-earning