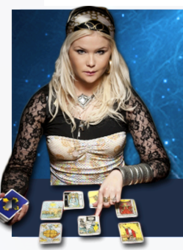 After tarot readings, people often come out feeling inspired to pursue their dreams...
(PRWEB) July 04, 2012
A new marketplace for online tarot readings, PsychicTarot.us has been launched and allows enthusiasts to start selling readings online. People can join the community and begin listing their services in less than 10 minutes and start earning real money.
Hobbyists as well as professionals are encouraged to join and begin growing their business while having fun.
According to the site tarot readings, astrology, online horoscopes, numerology, palm reading and similar psychic readings can help bring guidance and direction where before there was uncertainty.
PsychicTarot.us has come up with an ingenious way for professional tarot readers to sell simple readings for as little as $5 or up to $20. The website provides a platform for professional and amateur psychics to connect with online customers globally and deliver their mystical wares in a fun way.
This new site for the metaphysical uses a user friendly interface. A tarot reader simply creates an account on the domain, and posts the services being offered. Offer creators are only limited by their own creativity and effort.
The online service notifies the creator when customers purchase a reading being advertised. Once the reading is completed and the client is satisfied, the site delivers online payments to the reader, minus a small commission.
Buyers can browse the offers and when they have located an interesting offer, they can place an order, and communicate directly with the provider for details of their purchase. When satisfied with the mystic services, the order is completed and payment is facilitated securely using Paypal or Alertpay.
According to the site tarot cards offer detailed information regarding a persons financial, love, family affairs, and future. Tarot can assist in making critical decisions, can help people uncover hidden motivations and in some cases find love or the healthy relationship they were seeking.
Tarot is a method of gaining insight and answers to life's mysteries.
"After tarot readings, people often come out feeling inspired to pursue their dreams, with realization that life is a voyage and they are likely stuck midway thinking that they have reached their destination," said Katia Shayk, company representative.
About PsychicTarot.us:
Where else can someone receive such profound insight and guidance into love, money and future for as little as $5? This is a one of a kind meeting place for tarot card enthusiasts, mystics and professional psychics, connecting talented individuals with a world looking for guidance and fun.
Discover the mysteries of Tarot, visit today: http://www.psychictarot.us/join-today