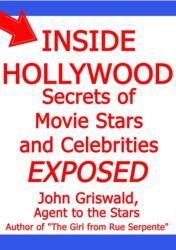 Breaking News Controversial and notorious eBook "Inside Hollywood Secrets of Movie Stars and Celebrities Exposed" aka "The Hollywood Bible," which reveals the "Schtick List," debuts in Amazon Kindle Store for $.99 Special Price
Hollywood, CA. New York City, NY (PRWEB) July 31, 2012
Top world-famous Hollywood movie stars and international pop entertainment celebrities from films, TV shows, music, radio, the concert stage, broadcasting news and social media are making news again in a scandalous new real life Hollywood tell-all eBook all about sex, drugs and rock and roll and authentic behind-the-scene secrets.
Famous people like Lady Gaga, Justin Bieber, Marilyn Monroe, Elvis Presley, Angelique Jolie, Madonna, George Clooney, Liz Taylor, Marlon Brando, The Beatles, The Rolling Stones, Jim Morrison as well as renowned figures from history and politics as Barack Obama, Adolph Hitler, Evita Peron and sports personalities as Tiger Woods now populate the uncensored and explosive no holds bared pages of the newly-published Amazon Kindle Store's shocking eBook "Inside Hollywood Secrets of Movie Stars and Celebrities Exposed" by John Griswald, Agent to the Stars.
Because "Inside Hollywood Secrets of Movie Stars and Celebrities Exposed" eBook reveals the exclusive, original and complete "Schtick List," the controversial and notorious list of famous and infamous actors, personalities and entertainers, the book is often referred to as "The Hollywood Bible" in certain "underground Hollywood" circles. The current insider buzz and lowdown stir centers around which show biz icons made the controversial if not outright scandalous "Schtick List" and who was ignored, and why.
John Griswald, the author, is the noted novelist, journalist and art critic (Art Collectors Website http://www.artcollectorswebsite.com) who wrote the celebrated World War II novel, "The Girl From Rue Serpente," the tragic love story of a French girl and an American soldier. The setting is the Left Bank of Paris in the steamy Latin Quarter during the Allied Liberation of Paris in 1944. The romantic story has been likened to a 20th Century version of Shakespeare's classic play "Romeo and Juliet."
"Inside Hollywood Secrets of Movie Stars and Celebrities Exposed," which has been decades in development, lays bare first hand eye-witness accounts and eye-opening secret truths concerning the amazing lifestyles and secret sexual exploits of not only movie stars and celebrities in the entertainment world of today, but also great motion picture idols and favorites from the silent screen as Rudolph Valentino, Gloria Swanson, Charlie Chaplin and Mae West.
In addition, the eBook also uncovers scores of leading filmmakers top secrets about the entertainment industry with often unbelievably outrageous but true stories and practices based on authentic personal experiences. Here is an amazing must-read inside look how many of the well-positioned and scandalous inside Hollywood players have made millions upon millions of dollars by using these success secrets that fooled the movie-going public over and over again.
With the "Inside Hollywood Secrets of Movie Stars and Celebrities Exposed" new eBook now available online from Amazon Kindle Store, movie fans and the general public finally have access to buy and discover all about the explicit revelations pertaining to all of Hollywood's best-kept secrets and everything about Hollywood and sub-culture erotic Hollywood and even porno Hollywood over the decades.
For an exclusive interview with John Griswald, members of the press and the media should contact Sylvia Silverstein by email: sylviasilverstein(at)gmail(dot)com.