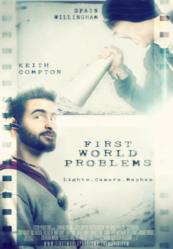 In the year 3000, THIS is the film that will still be talked about!
Los Angeles, California (PRWEB) July 26, 2012
Spain Willingham, the Writer/Director behind First World Problems, noticed that META-comedies of late have been more and more complex and confusing - and it's getting out of control. Are these films actually trying to confuse the audience? Is that the goal? So when writing this script he thought to himself what if we made fun of that genre, and turned it into a super funny satire? "I wanted to make fun of the entire Meta-ness craze that seems to be the current trend."
By taking some of his favorite horror elements and mixing it with insane slapstick comedy, Spain Willingham has made a new breed of cross-over humor that he hopes will catch on in the Independent Circuit. "This has been so much fun to write and act in, I want to do another Meta like feature within the same universe in the future."
For now, Spain is going to concentrate on film festivals and screenings to help generate PR for the film. With a strong soundtrack by Artists like The Disco Biscuits and Solar Bears and amazing performances by Keith Compton, Lacey Houchen, Sean Garahan, Chris Nassko, Allie Kenny, and Eric Holter. Gorehounds, Comedy Lovers and fans of Shakespeare will be right at home! (Shakespeare fans please note: there is nothing remotely close to Shakespeare in this motion picture)
Shot on location in San Francisco and Los Angeles, this is a project that Spain and Keith have been developing for some time now. They first met in Chicago while Spain was in Film School and Keith was attending Theatre School. They then reunited in San Francisco for the Production of First World Problems. They both now live in Los Angeles where they are working on several new projects, including Spain's new feature film "Beast/Mode".
The Film will be Screening at the COMPLEX THEATER at 6476 Santa Monica Blvd.
Hollywood, CA on THURSDAY, AUGUST 16th at 7PM - Free (limited to 50 seats)
An Additional Screening will be at the OPERA PLAZA LANDMARK at 601 Van Ness Avenue
San Francisco, CA on MONDAY, AUGUST 20th at 7pm - Free (limited to 50 seats)
IMDB: http://www.imdb.com/title/tt1996260/
Facebook: http://www.facebook.com/firstworldproblemsmovie
FIRST WORLD PEOPLE! FIRST WORLD ISSUES! FIRST WORLD PROBLEMS!