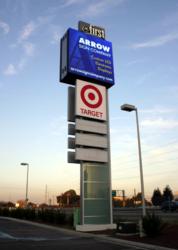 "It was very important to them that it make a statement, [that] it talked about San Jose, [and that] it was done to a certain theme or certain level of architectural design."
Corona, CA (PRWEB) July 02, 2012
Arrow Signs won the 2012 ISA Sign Design Competition for Electronic Message Centers with the @First Shopping Center project in San Jose, CA. The award was announced during the annual ISA International Sign Expo held earlier this year in Orlando, FL. With an outstanding design team and honest collaboration with local regulatory agencies, Arrow Signs proved once again that LED Signs can be tastefully integrated with traditional signage to provide a great looking product that lasts.
"It's a beautiful sign." said Scott Reese, Arrow Signs LED Sales Specialist at the time. "I wasn't surprised when it won, but I was pleased that [they] recognized the uniqueness of the display"
According to Reese, the project required a great deal of collaboration and review with the customer and the San Jose sign review board. The sign code for San Jose is very particular on LED signage, and the project had to be specifically approved before construction.
"It was very important to them that it make a statement, [that] it talked about San Jose, [and that] it was done to a certain theme or certain level of architectural design." said Reese.
Arrow Signs is a popular electric and architectural sign manufacturer for central California. In business for 60 years, they have created some of the best looking signs in the industry. They also provide a range of services including Overall Design, Master Sign Programs, ADA signage, Engineering, Permits, Installation, and Maintenance Programs. According to Reese, the superior design staff and manufacturing skills are major factors in the success of Arrow Signs.
"The guy who runs the design department [Charlie Stroud] is a phenomenal designer. He is very knowledgeable in the business; he knows what can be built, what can't be built, and what its going to look like when it's done." said Reese, adding that "The technique and quality of their craftsmen are as good or better than anything I've seen out there."
Reese said this attention to the needs of the customer, local community, and existing architectural themes are what set Arrow Signs apart, and make a good design possible for any sign project.
"The purpose of signs is to attract attention and stimulate business." he said "Architects [build] with a certain uniqueness...and if the sign complements that uniqueness and stimulates enthusiasm [and] attention...I think you've hit the nail on the head as far as making a great design."
Arrow Signs partnered with US based Vantage LED to provide the LED display for this project. Vantage is a fast growing LED manufacturer in Corona, CA. Vantage has a heavy presence in the OEM markets; but have recently launched a "Rediscover Vantage" campaign, overhauling their website and resources to fully support a traditional dealer network.
"We've grown substantially since 2003," said Director of Marketing, Paul Martin. "We want to share our innovations and experience with a large market and fully support our existing partners and dealers."
Vantage LED is very familiar with the customization required for good designs, producing a host of unique signs like the LED columns for Legacy Apartments in Hollywood, CA and the ultra long scrolling board for the AMC Imax Theater in San Francisco. As a manufacturer, they have the opportunity to work on a variety of designs with many different partners and dealers, while still producing a standard line of LED signs that can be integrated into any project.
"We love what we do, and we want to share our passion for LED signs with our customers." said Martin.
Martin explained that a major factor in their success is from producing both the hardware and their LightSpeed™ and LightForce™ sign control software in-house at the Corona factory.
"By working locally, we have complete control over the design and manufacturing process for both the hardware and software. " related Martin. "This gives us the ability to adjust quickly to problems, or even small changes that are needed."
As we move further into the 21st century new technology and manufacturing systems are making it possible to produce better designed projects with LED signs. The age of the old incandescent sign with missing bulbs and fading cabinet is over. LED signs today have a higher resolution, last longer, and provide more control over the brightness, content and design than ever before. Through this award, Arrow Signs and Vantage LED demonstrate that using technology responsibly and designing with class will produce dynamic signage that still maintains a high level a taste and style.