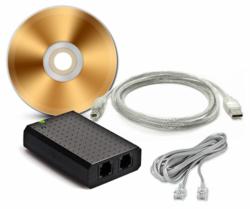 These recorders will allow users to provide excellent customer service, while protecting themselves from false claims
Milwaukee, WI (PRWEB) July 03, 2012
Telcom & Data, a leader in business phone systems, announced today a reduced price on an exceptional USB Phone Recorder. The recorder is ideal for keeping accurate records of important phone conversations such as conference calls, interviews, and sales calls. The phone recorder gives professionals peace of mind and business power. It ensures contractors deliver on price quotes and verbal agreements are kept. Moreover, the device guarantees important client information is never lost. It easily records calls right to a PC or laptop. Small and medium sized businesses and home office workers will especially love this product because of its ease of use and simple set-up. The device is perfect for attorneys, doctors, brokers, day traders, contractors, and salesmen.
The USB recorder boasts many great features. The recorder is the size of a credit card in length and width and can be easily hidden. The recorder and accompanying software takes less than 10 minutes to install. Once connected, users can automatically or manually record outbound and inbound calls. The recorder also stores the name and number of inbound calls on your computer. No tapes or batteries are needed, making the recorder maintenance free. Recorded calls can be played back immediately in crystal clear digital sound or they can be saved to a network drive, PC, CD, or FTP site. Saved files are compressed to reduce hard drive space requirements and can easily be searched. As a further convenience, the sound files can be sent via e-mail.
When Ricardo Trinidad, President of Telcom & Data, was asked about the benefits of the recorder, he said, "It's small and incredibly simple to use. These recorders will allow users to provide excellent customer service, while protecting themselves from false claims."
For more information about the USB phone recorder, visit Telcom & Data's website or call 1-800-335-0229.
ABOUT Telcom & Data: Since 1996 Telcom & Data has been providing thousands of telecommunication solutions to organizations around the world to measurably improve communications. The company is a leader in business phone systems. Telcom & Data maintains a network of over 1500 technicians with locations in Chicago, Milwaukee, and Miami.