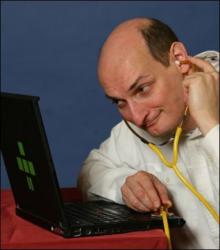 Everybody is invited to join in and document their ideas for repairing, "modding" or upgrading a laptop or notebook.
(PRWEB) July 16, 2012
Repair4Laptop now offers a new Wiki containing free do-it-yourself repair guides for laptops and notebooks. Everybody is invited to join in and document their ideas for repairing, "modding" or upgrading a laptop or notebook. The wiki supports the use of images and text by contributors. It is even possible to enhance the wiki by helping to improve the already existing guides. Werner Heuser, the founder of the project, will assist people who ask for help writing a new guide when requested. All guides have to be published under a so-called Free License. Free Licenses are also used by Wikipedia, and will allow the free distribution and improvement of the guides.
There are many good reasons for a person to attempt the repair of a laptop or Notebook themselves. A repair done by a professional can be expensive, time consuming and sometimes makes it necessary to reveal private data to the repair professionals. Only a few manufacturers offer free Hardware Maintenance Manuals (HMMs) to their clients. Missing technical documentation makes the repair or upgrade of a laptop or notebook a difficult and nerve-stretching task for a non-professional. That is when the free guides at Repair4Laptop come in handy. A do-it-yourself repair can save people money, labor costs and time. Personal data that hasn't been encrypted doesn't have to be shared with anyone, or made vulnerable to untrustworthy sources.
The How-To sections of the Wiki that describe the process of upgrading laptops and Notebooks are also extremely useful. The lifecycle of a device can be prolonged by upgrading RAM and the hard disk drive. That way, those who aren't ready to invest in a new machine can hold off.
Cleaning guides, especially for fans and keyboards, can help to extend the lifetime of a laptop or notebook. A fan blocked by dust and grime can cause the machine to overheat, leading to an early death of the machine. A thorough cleaning of the keyboard is not only helpful for hygienic reasons, but can also extend the lifetime of a keyboard.
The new Repair4Laptop Wiki even has guides for different ways to personalize devices. This practice is often referred to as "modding," and includes topics such as painting a laptop case, or replacing the manufacturer logo with a custom logo.
About Repair4Laptop
Repair4Laptop has been up and running since March of 2005. It contains a wealth of useful information on laptops, notebooks, and repairing them. It also has information about upgrading components, different parts, and accessories. All of the different topics are available at the Repair4Laptop web directory.