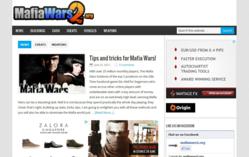 We want new gamers to embrace the game, which is why we have come up with our new tips and tricks guide for Mafia Wars 2.
Phoenix, AZ (PRWEB) July 01, 2012
Mafiawars2.org, the leading online resource for the popular Facebook game Mafia Wars 2, is delighted to reveal a host of new tips and tricks for budding gangsters eager to dominate the Mafia world online.
In a recently published blog post on its website, Mafiawars2.org has published its largest ever collection of tips and game strategies that are designed to help beginner and intermediate players progress in the game, and travel to the higher level cities of Moscow, Bangkok and Atlantic City in the fastest time possible.
Among the strategies discussed in the new Mafia Wars 2 guide on Mafiawars2.org are tips for securing as many friends as possible to develop your mafia, as well as hints on which stats to improve first of all in order to make progress at the optimum speed.
In addition, the new guide gives advice on how to go about fighting the right way to ensure success each and every time, how to target weaker opponents, and how to use the bank to stash cash away as soon as possible, to avoid being robbed in a fight against a stronger opponent.
Dan Lim, chief editor of Mafiawars2.org, explained that the new strategy guide would prove invaluable to novice players of the game:
"Mafia Wars 2 is not a difficult game, but it can be tough starting out. Many new players become disenchanted early on if they lose too many fights to begin with, and end up stopping playing the game.
"We want new gamers to embrace the game, which is why we have come up with our new tips and tricks guide for Mafia Wars 2. With this new guide, novice players will quickly grab the basics of the game and find they can progress extremely quickly, thus getting maximum enjoyment in as short a time as possible".
The new strategy guide was published on the Mafiawars2.org website last week, and is available to read now.
About Mafiawars2.org
Mafiawars2.org is a popular news, updates and tips website for the Facebook game Mafia Wars 2. Bursting with up to the minute information, all the latest news, updates and tips, the website has become the favorite resource of thousands of Mafia Wars 2 players from across the world. For more information, check out their website at http://www.mafiawars2.org.