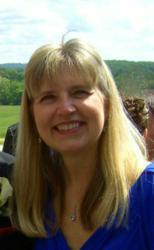 I went from having three healthy children...to chaos in my home.
Stamford, CT (PRWEB) July 02, 2012
When Janet Vaccaro and her family moved into their Stamford home in 1994, they had no idea what lay ahead of them. Janet, who held a part-time job at a nursery school in New Canaan, expected she'd simply enjoy a quiet life with her husband and three young sons. Yet fate has a way of changing even the best laid plans.
Janet, then 40, soon started experiencing a rash on her torso, fevers, then swollen ankles and a troublesome shoulder. Months passed without doctors being able to determine what was wrong. "It got to the point that I wondered if I was causing my own problems," she said. But her symptoms grew worse. Finally Janet reached the point where she had to give up her job because she was suffering from severe memory and joint problems.
In 1996, a time when Lyme disease wasn't as recognized as it is today, she asked her doctor to test her for the disease. She tested positive and Janet, bedridden, was put on IV antibiotics. But to complicate matters, her sons had started to experience fevers, joint pains, sore throats, memory problems, extreme fatigue, and irritability. "I went from having three healthy children," Janet recalls, "to chaos in my home."
Seeking help for her boys, she found little support from medical professionals. "The children's pediatrician told me it was viral, that the boys were upset because I was sick, and that I was simply projecting my illness on them," she said. "Then when we went to an orthopedist and I told him that one of my boy's couldn't write anymore because of problems with his wrist, he dismissed my concern saying my son probably played too many video games."
Nevertheless, Janet had her sons tested for Lyme. All came back positive and the boys underwent treatment. Today, one still "struggles" with Lyme complications, she says. But seeing her children struggle with the disease changed Janet's life. In 2000, she attended a Lyme support group meeting and heard Diane Blanchard and Debbie Siciliano, co-presidents of Lyme Research Alliance (formerly Time for Lyme), talk about the need for greater awareness and education about Lyme. Janet knew she had to join their cause.
"We all knew of other children who were ill and we wanted educators to understand that Lyme was a genuine illness," she says. "We wanted them to understand that kids dealing with Lyme might need to lie down to rest, or leave school earlier, and we didn't want them to be held back in school. If we didn't stand up and be advocates for our children, no one would be there for them," she said.
Janet began to help LRA any way she could and in June 2001 joined its Board of Directors as Secretary. "I was never one to rock the boat, but I had to take a stand," says Janet, who now also works full-time for the City of Stamford in Revenue Services.
For over a decade Janet has given much of her time and energy to LRA volunteering at virtually all events and fundraising galas. In April she was honored by the organization for her years of dedicated service and now has been chosen as LRA's "Person of the Month." "Honestly, I don't know why they chose me," she says. "Every person on the board pushes themselves to the limits. We are truly committed to finding a better diagnostic test and better treatment options."
As Janet continues her work, she says one of her goals remains unfulfilled. "When my youngest son was so sick, he looked up at me and said 'no little boy should have to go through this,'" she recalls, choking back tears. "I promised my three children that I'd get them healthy again and I have one more to get healthy. All of us at LRA have made promises to our kids and to loved ones struggling with this disease. We're going to keep our word. It's too important not to."
About Lyme Research Alliance
Lyme Research Alliance, formerly Time for Lyme, is a Connecticut-based, national non-profit focused on accelerating the development of more effective methods of diagnosis and treatment of Lyme disease. The 501(c)(3) funds cutting edge studies at leading medical research centers around the country, and contributes to prevention by promoting education about detection and prevention of tick-borne illness. Each month, LRA spotlights an individual who has shown exceptional commitment and passion in the fight to end Lyme disease. For more information go to http://www.lymeresearchalliance.org.