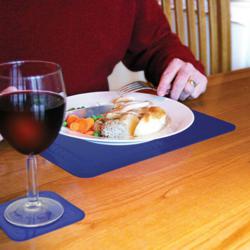 Tenura products are ideal for improving grip and providing stability and help people with reduced hand strength, mobility limitations, Parkinson's disease or spasticity to maintain independent living.
Wayne, New Jersey (PRWEB) July 11, 2012
Designed to reduce accidents, provide a secure grip and reduce spills, anti-slip and grip products are gaining in popularity for use in the home and assisted living facilities. And, with many options to choose from and similar looking materials the question becomes 'Are all anti-slip and grip products the same?' In a word, 'No.' Some are more heat friendly than others, some have better stick and some, unlike those made of PVC, are chemical and toxin free. Product lines can range from specialized items such as jar openers to rolls of material that can be cut and tailored to fit specific surfaces. Tenura silicone anti-slip products, a new line recently launched in Great Britain and now available in the United States exclusively from Maddak Inc., has all these advantages and more.
According to Kathleen Hanek, Director of Product Management for Maddak "Tenura silicone products are made entirely from silicone rubber; a material that is non-toxic and chemically inert. The line includes placemats and coasters that can be used to stabilize objects, bottle and jar openers to open tight lids, fall prevention mats that reduce the risk of slipping and silicone rolls that can be cut to any size and shape for customized solutions to your anti-slip issues."
"The products are ideal for improving grip and providing stability" Hanek declares, "and help people with reduced hand strength, mobility limitations, Parkinson's disease or spasticity to maintain independent living."
Explaining the benefits of Tenura over other anti-slip products, Hanek tells us, "being 100% silicone the products do not contain phthalates, lead, nickel or other toxic chemicals so they are safe for children, pets or anyone else who may come in contact with them. And, they are heat resistant up to 470 degrees which means the products can be safely cleaned in a dishwasher or an autoclave without the chance of warping or degrading. Tenura's heat resistant properties make the strips and rolls perfect for wrapping around pan handles and other heat sensitive areas for a more secure grip."
Maddak is the exclusive U.S. distributor of the Tenura product line and will be distributing the products through its distributor base of HMEs and DMEs. The suggested retail prices for the Tenura products range from $4.95 to $200.00. Additional product information can be found on the Maddak website. All products are packaged for retail display. Point of sale counter top displays are available for some products. For more information, a copy of our latest catalog or dealer information contact: Maddak Inc., 661 Route 23 South, Wayne, NJ 07470, 800-443-4926, custservice(at)maddak(dot)com or http://www.maddak.com.
About Maddak
Maddak Inc. manufactures products that simplify the tasks of daily living – eating, drinking, dressing, grooming, bathing, toileting, etc. – for seniors, people with disabilities and people undergoing rehabilitation. The company mission is to provide quality products that enable people to maximize their independence and remain active despite any limitations they may face. Marketed under the Ableware® brand name, the Maddak product line includes over 500 products sold through medical and hospital supply centers, pharmacies, homecare centers and internet outlets. Established in 1971, Maddak Inc., headquartered in Wayne, NJ is the largest U.S. manufacturer of assistive devices, clinical modalities, home healthcare and rehabilitation products.
###