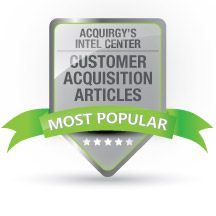 St. Petersburg, FL (PRWEB) July 03, 2012
Acquirgy has compiled a special July 4th edition of the most popular downloaded content into a "Great Holiday Reading" recommendation for marketers who use DRTV and SEM. Highlighted content for this week include these Executive Briefs, all at: http://R3B.acquirgy.net:

DRTV Campaign Burnout Can Be Reversed With a Strategic Turnaround Plan
4 Technologies That Will Impact DRTV Advertisers
Is Your Online Shopping Cart Killing a Great DRTV Program?
How Direct Response TV "Raises All Boats"
Here are two popular eBooks:
eBook: "DRTV Derailers – How Internet-Age Issues Can Turn Your DRTV Program Into a Train Wreck" at: http://R3C.acquirgy.net
eBook: "Behind The Scenes – What It Takes to Create a Wildly Successful, Multichannel DRTV-Driven Customer Acquisition Campaign" at: http://R3D.acquirgy.net
Over 100 best-practices content can be found at the Customer Acquisition IntelCenter: http://R3E.acquirgy.net
About the Customer Acquisition IntelCenter
The Customer Acquisition IntelCenter enables you to get your head around acquiring customers in the digital age with valuable and important content written by experts who have produced tens of millions of customers worth billions in revenue, offline for 30+ years and online since 1996. Major areas of the IntelCenter include "Nuts & Bolts" (Green Papers, Executive Briefs, Infographics), "Millions & Billions" (Cases, Testimonials), "Winner's Circle" (Creative That Sells), "Points of View" (Key Stat Analyses, In the Trenches, Blog), "News & Milestones" (New Clients/People, Published Content) and "Alerts" based on breaking news and trends.
About Acquirgy
Acquirgy (http://www.acquirgy.com) is an Acquisition Marketing Agency developing and executing accountable marketing programs driven by immediate and measurable response metrics across all digital and traditional platforms. Proprietary tracking systems integrate all transactional media, logistic and response data from all platforms to optimize client profitability.