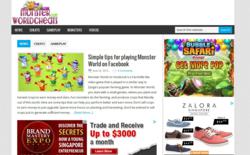 We believe that the decision to pull the game from the Google+ platform is purely a business one. Quite simply, only a very small percentage of Monster World users accessed the game through Google+
Phoenix, AZ (PRWEB) July 02, 2012
Monster World, the popular online social network game that boasts more than 10 million daily unique users from across the world, has become the latest Wooga game to be pulled from the Google+ games platform.
Monsterworldcheats.com, the favorite online resource for thousands of Monster World players, can reveal that the game is now inaccessible via the Google+ platform. Users who attempt to access Monster World using Google+ are now redirected to a message that states "Monster World says Goodbye".
The message says that Monster World was pulled back on May 1st, although users have only recently reported the game's inaccessibility on the platform.
Wooga, the developers of the game, declined to give a reason for removing Monster World from Google+, although Monsterworldcheats.com has information that the decision was made due to its unpopularity on the platform.
Monsterworldcheats.com reminds gamers that Monster World continues to be accessible through Facebook, which is by far the most popular platform for the game, accounting for over 90% of its users.
Dan Lim, editor of Monsterworldcheats.com, stated that the pullout from Google+ in no way reflects a declining popularity of the game itself:
"We believe that the decision to pull the game from the Google+ platform is purely a business one. Quite simply, only a very small percentage of Monster World users accessed the game through Google+, and Wooga felt that it wasn't economically viable to continue supporting the game on that platform. We are totally confident that Monster World will continue to retain its status as one of the top social network games on Facebook for many months to come".
Monsterworldcheats.com points out that the decision by Wooga to pull the game from Google+ does have a precedent. Last year, Wooga pulled all of its titles, including Monster World, from the German social network site StudiVZ, after coming to the conclusion that the low number of users simply didn't warrant a continued presence on the platform.
About Monsterworldcheats.com
Monsterworldcheats.com is a popular news and updates website for the Facebook game Monster World, one of the most-played social network games to date, with over 10 million regular monthly users.
With regular updates and new hints and tips published each week, Monsterworldcheats.com is the first port of call for thousands of Monster World players looking for the latest news about the game. Visit their website for more information at http://www.monsterworldcheats.com.