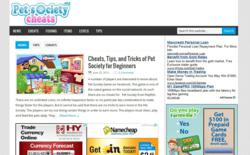 The guide is designed for new players, primarily because we thought that the difficulty of the game was causing too many users to give up to early.
Phoenix, AZ (PRWEB) July 03, 2012
Petsocietycheats.org, one of the most popular online magazines packed with hints, tips and cheats for the social networking game Pet Society, has recently published a new game strategy guide on its new website aimed at assisting novice players and ensuring they don't lose interest when they first start playing.
Pet Society is one of the oldest social networking games around, yet it has remained one of the most enduring of all games of its genre since its launch almost two years ago. Gameplay revolves around players taking control of a virtual pet, controlling its environment and providing it with entertainment, food and other essentials to ensure its happiness.
But while that may sound easy enough, doing so in practice is an altogether different story, which has led some game experts to raise concerns that many players lose interest in the game early, due to its unique challenges.
Petsocietycheats.org's new strategy guide, which was published in a blog post on the site last week, aims to change all that.
By providing a range of hints and tips aimed at helping new players to get off to a good start, build up their level as fast as possible, and accumulate as many coins as they can in the fastest time possible, it's hoped that more new players will be able to stick with the game and improve its player retention stats.
Dan Lim, chief editor of Petsocietycheats.org, explained how the new guide would be able to help new player in Pet Society:
"The guide is designed for new players, primarily because we thought that the difficulty of the game was causing too many users to give up to early. Don't forget that Pet Society is targeted primarily at younger players, and they don't always have the patience to stick at it. With our new guide, it becomes a lot easier for novices to establish themselves in Pet Society, and then they can quickly enjoy all of the benefits of the game which only become accessible once a certain level has been reached."
The guide contains a wealth of information, teaching new players all the tricks necessary to master Pet Society in as fast a time as possible, including such essential advice as how to add friends, how to earn coins by playing with friends, how to earn rewards by playing games and many more great tips.
Players can access the guide as of last week by visiting Petsocietycheats.org.
About Petsocietycheats.org
Petsocietycheats.org is one of the most popular news and updates websites for the classic Facebook social game, Pet Society. With regular weekly news updates and a huge amount of helpful articles available in its archives, Petsocietycheats.org has become the number one resource for thousands of Pet Society gamers from across the world. For more information, visit their website at http://www.petsocietycheats.org.